You may be familiar with the popular V Shred fitness supplements and training programs, but recently they've launched their own athletic wear brand that I was excited to try! I recently got a few of their products and will be sharing my V Shred activewear review.
Brand Overview
Overall: ⭑⭑⭑⭑ (4.5 stars) – Overall I really liked this brand! I'm always a supporter of brands going up against the larger players in the market and V-shreds is doing a great job at creating high-quality athletic wear at great price points that rivals the competition.
Quality: ⭑⭑⭑⭑⭑ (5 stars) – This is where V-Shreds shines! The quality is absolutely amazing. It's very form-fitting with an outstanding stretch that doesn't wear down, and deep blacks that stay deep blacks.
Price: ⭑⭑⭑⭑ (4 stars) – The price is fair for the quality you're receiving! Some of the products are almost half the price of Lululemon, but with similar quality.
Return Policy: ⭑⭑⭑⭑ 4 stars – Great return policy! They offer returns within 30 days, but the only thing is it must be in "resalable condition" which means you can't actually wear them other than trying them on. That being said, this is very standard for most clothing brands – Lululemon has the exact same policy so all things considered not bad!
V-Shred Threads Review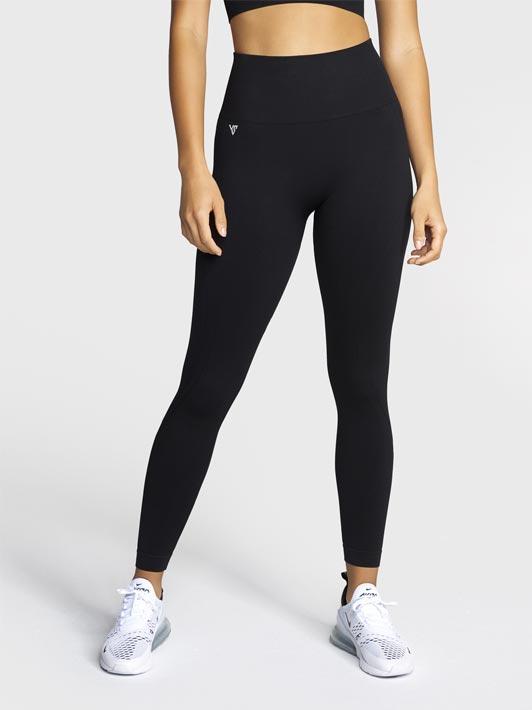 Seamless Flex Leggings Review
I'm always looking for new workout leggings to try and these are great! They're comfortable, form-fitting, don't give me unflattering cameltoes, and are squat-proof.
I went with a plain black color to match with any outfit, but they also have a variety of other fun prints and styles to try out (most of which have matching bras as well)!
That said, they have quite a few different styles. The only one I tried was the Seamless Flex, but they have 5+ other styles that you may want to try out also (like the Scrunch Butt Lift style I'm dying to try)!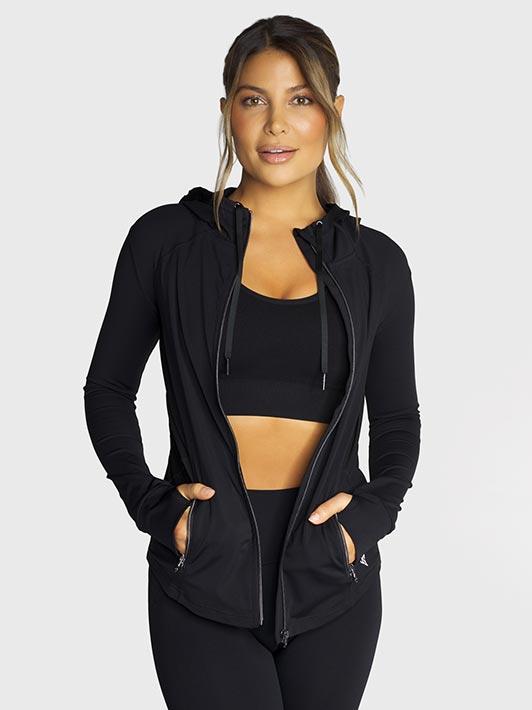 Weightless Jacket Review
The weightless Jacket is just that, weightless! It's made of Nylon and spandex to give it a skin tight look while also feeling very lightweight. It fit me very snug, especially along the arms, which I enjoyed. It feels very high quality! I love having a comfortable, lightweight jacket I can wear to the gym or when I'm out and about.
They have convenient thumb holes for running, which I haven't had to use, but is still nice to have just in case. If you're a little curvy, it fits snugly (almost like shapewear).
Other Popular Products
Price
You can expect to pay around $60-80 an item. You might think that that is expensive, but when it comes to activewear, it's not about what's the most affordable. You want to take into account how long will your pieces last, how well they make you feel, and how comfortable they are to work out in.
V-Shred isn't going to be a brand that you need to re-purchase every 3-4 months because the elasticity is weakening or the stitching is fraying.
Final Thoughts
Overall, the two activewear pieces I tried from V shred were excellent! After a few months of wear (and plenty of washes), they still look and feel new. They're comfortable, crafted with quality, squat-proof, and make my body look amazing. I look forward to trying out more of their legging styles and other activewear pieces!