SPF is arguably the most important product in a skincare routine, so this is a step you want to get right.
But do you need to spend extra money to get quality sunscreen products?
Supergoop is a luxury SPF brand that offers a variety of products, all of which are dedicated to keeping your skin protected from the sun. But with a price point of $20–$60 per product, you might be hesitant to stock up before reading reviews.
Lucky for you, I've tried 4+ products from the brand – here are my honest Supergoop reviews based on three of their top-rated products that I've tried.
What is Supergoop?
First off, what is Supergoop and what makes this brand so special?
Supergoop is a skincare brand that is dedicated to suncare, meaning all of its products contain SPF and are designed to protect the skin from sun damage.
They aim to be a clean brand, avoiding ingredients that test on animals as well as a wide array of other potentially toxic ingredients.
You can find a full list here of ingredients they never use (there are over 1600+ ingredients on their "No List").
Their products are also reef-friendly, which means their formulations don't harm reefs (some sunscreens and other skincare products use ingredients that can harm reefs).
Supergoop Reviews
Now that we've gone over a brief intro to the brand, I'll dive into my experiences with Supergoop and if they're worth the money.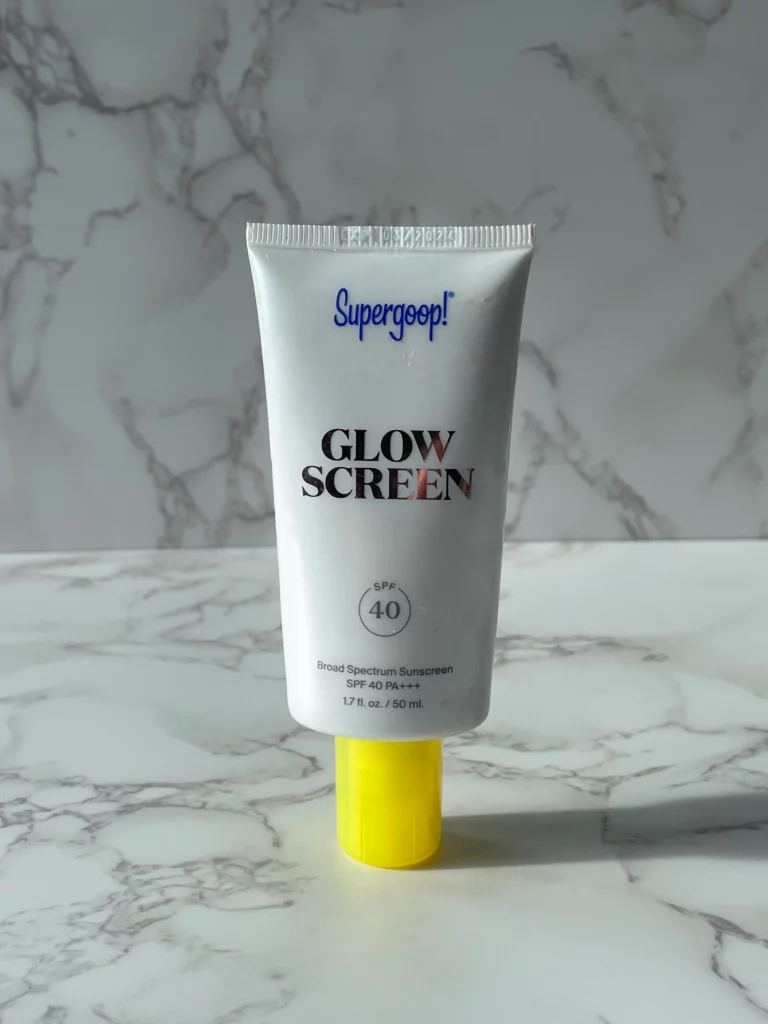 Unlike their top-rated Unseen Sunscreen, this product is designed to leave a glowy finish to your face. I absolutely love this sunscreen!
For me, it's an excellent replacement for makeup primer because it's moisturizing and allows that gorgeous glowy finish to come through even after doing your makeup. 
It's easy to blend in and leaves no white cast, which is always great to find in a sunscreen product.
The only downside is that it can feel a bit greasy if I'm wearing it by itself. However, I don't notice this when I put makeup over it.
Since it's a bit greasy, I've noticed that I get a few breakouts if I forget to wash my face at the end of the day after wearing this sunscreen.
Aside from this, I love the gorgeous glow this sunscreen gives me. But if you're not looking for a glowy finish or have oily skin, you'll probably want to try their best-selling Unseen Sunscreen or Matte Screen instead.
Tip: The mini SPF set allows you to try multiple sunscreen types from them to see which is your favorite.
---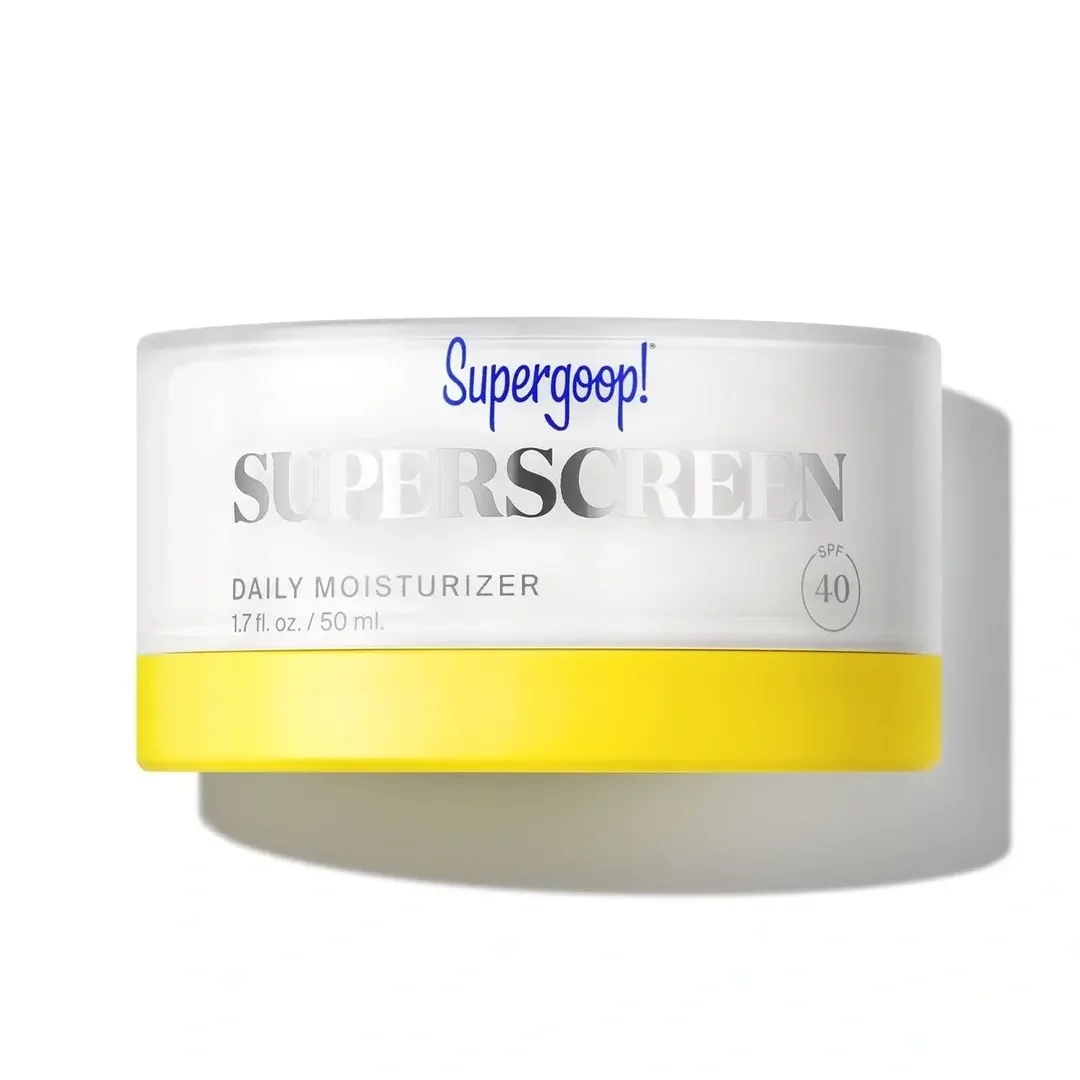 I don't know about you, but my skincare routine has become exhausting. Cleanser, moisturizer, serum, SPF . . . does it ever end? I'm all for life hacks and this is one of my favorites.
I don't know why I never thought about searching for a product that combines your everyday moisturizer with SPF, but I'm beyond glad I found this.
I have dry skin and this moisturizer does an amazing job at deeply moisturizing my skin (and it stays moisturized throughout the day). Despite deeply moisturizing, it soaks into my skin quickly and doesn't leave a heavy feel, so I can still do my makeup afterward if needed.
It is a bit expensive compared to the $10 big pot of Cerave moisturizer I used previously, but I love the 2-in-1 functionality.
I usually use this on days when I don't wear makeup and opt for the Glow Screen when I wear makeup because I love that glowy finish with my makeup.
That being said, if you don't think spending premium prices on a product that mainly just removes a step in your skincare routine, this product probably wouldn't be worth it for you.
---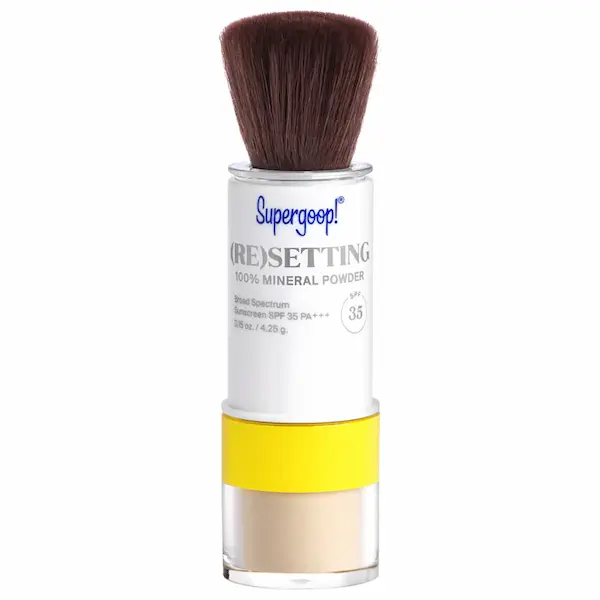 If I had to choose one product I could buy from Supergoop, it would be this setting powder.
I never considered reapplying sunscreen throughout the day (even though you're supposed to) because I wear makeup most days. But this product is a game-changer.
It's beyond easy to use and is super travel-friendly. It has a built-in brush so you don't need to worry about getting out your powder and the brush separately, then trying to apply while on the go.
The biggest downside is that it comes with a small amount of powder, meaning it doesn't last very long before you need to refill it. But, I do like that they sell refills instead of needing to buy an entirely new product (the refill is a better deal at $20 for the same amount of product).
They also only have five color options so it might be hard to find a perfect match – I get translucent to avoid this process.
Although they also have a setting mist with SPF 40, I prefer the setting powder because I usually reapply powder throughout the day anyways to minimize oil.
---
Overall Supergoop Reviews
At the end of the day, is Supergoop worth it? This depends on what you're looking for and what you're willing to spend your money on.
For example, I love the idea of combining moisturizer and SPF into one product and saving a step in my morning skincare routine, so I'm willing to spend $44 on the Supergoop daily moisturizer.
But is it actually worth this price? Probably not, especially for those on a budget. There's nothing ultra-special about this moisturizer that I couldn't find in other moisturizers that are more than half the price.
With the growing popularity of Supergoop, there are many other SPF products that are trying to compete with the brand. So if you're hesitant about the price, there is probably a dupe out there that is a bit cheaper and very comparable.
For example, many viral posts on TikTok claim that the Trader Joe's Daily Facial Sunscreen ($9) is a dupe for Supergoop's Unseen Sunscreen ($36).
I will say that their SPF setting powder is one product that is well worth it for me because it's essential to re-apply your sunscreen throughout the day (and based on personal experience, I know it's rare for those who wear makeup to re-apply).
If you love spending money on time-saving products, the SPF setting mist might catch your eye too. Instead of applying a liquid sunscreen all over your face, just spritz with this setting spray after your makeup and you're good to go. You can use the setting spray to re-apply as well without messing up your makeup!
At the end of the day, I love my Supergoop products, but they aren't for everyone. Luckily, they have a great return policy (including used products) in case it doesn't seem worth it to you.
And to make life easier, their products are available at Sephora and Ulta, so you can buy them through these retailers and return them in-person rather than mailing them back to Supergoop.
RELATED: 12 Best Sunscreens for Acne-Prone Skin, According to Dermatologists