As you put away your snug winter wardrobe in favor of your breezy summer clothes, we want you to think about your summer wardrobe essentials.
Do you find that you open your closet every day and feel like you have nothing to wear because it doesn't fit well, is not the most comfortable fabric or does not reflect your style? The result being that you are perpetually dissatisfied with your summer wardrobe.
If this resonates with you, don't worry. In a day and age when new fashions and styles assault us wherever we look, we tend to forget that our wardrobes have to reflect our style, be comfortable and work for our lifestyle. Summers can be varying degrees of uncomfortable and the last thing you need is an uncomfortable wardrobe.
We are sharing the top summer wardrobe essentials that will carry you through the season like a cool breeze. We've also done the scouting for you so you know exactly where to go to find the recommended styles.
Summer Wardrobe Essentials
---
Bottoms
Since jeans became synonymous with casual chic, most people have stopped considering other options. We want to remind you that there is a world of bottoms out there that is not various washes and styles of denim.
Denim may seem like an easy option, but even the lightest denim is not as comfortable as the options below.
Linen/Cotton Trousers
All the way from Jackie Kennedy to Jennifer Aniston, linen and cotton has remained a celebrity favorite and with good reason too. These fabrics are light, breathable and comfortable. They keep one protected from sunburn and avoid annoyance on account of sweat.
Trust me, once you try these agreeable fabrics you will struggle to revert to anything else. We care for your comfort so we have shortlisted the top three linen/cotton trousers for you. Between these selections at LK Bennett , Lafayette 148 or Everlane, you will be spoilt for choice in quantity of cotton and colors.
Linen/Cotton Shorts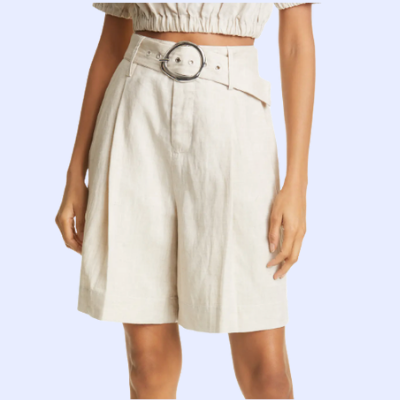 Every occasion does not lend itself to trousers and neither does everyone's style. No need to despair because there are now linen/cotton shorts available in every length, design and print you could desire.
These are an equally comfortable alternative to trousers that have the added benefit of being able to tan below the knees so you don't need to reach for a spray tan when wearing a dress. Shorts are also super fun in that you can buy them in a range of pastel colors or patterns and let your style be the envy of everyone you meet.
Whether you match these with blazers or wear them with tops, here are a few options we love, Staud walking shorts, Reformation Nashville shorts, and Forever21 bermuda shorts.
---
Tops
I know you probably have scores of tops, but if you find that you cannot grab anything and make it work with your staple summer trousers, your summer wardrobe needs some work.
You do not need dozens of tops, you just need a few of the right type. Let me walk you through what kind of tops will complete your summer wardrobe.
Linen T-shirts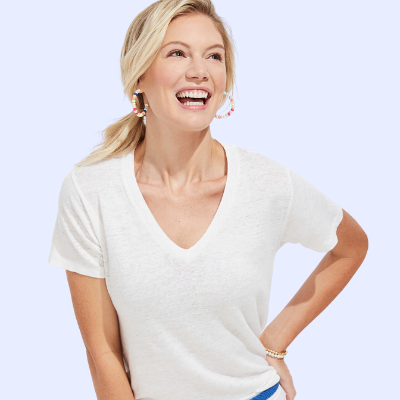 Invented in the 19th Century when laborers would cup their jumpsuits in half to keep warm in the summer months, T-shirts are now a wardrobe staple. Linen T-shirts, however, are unique as they lend a certain kind of elegance to your breezy summer look.
You can choose between different styles of neck and sleeve length however I do recommend options with sleeves. Sleeves, whether shirt or long, keep one comfortable with regards to sweat and look smarter too.
My favorites are the Vineyard Vines linen t-shirts which are offered in 6 colors followed by the Ciara linen blend t-shirt by Splendid and if sleeveless is still your thing then the Laura v-neck tee by Sanctuary.
V-neck Tops
Evolved from the cricket sweater's neckline, V-neck tops whether they be in the style of a blouse or button down are a fantastic wardrobe investment. They are extremely flattering on every figure as they elongate the neck.
The great news is that they are a favorite amongst all clothing brands for the summer. One is spoilt for choice when it comes to fabric and there is something for everyone. They look best tucked in at the front into your skirt, trousers or shorts and worn with necklaces or pendants that mimic the neckline of the top.
I love these wrinkle resistant ones by Vince, this button down by FoxCroft in sustainable Tencel fabric and this faux wrap blouse by Paige.
---
Dresses
Dresses are the ultimate in comfort and convenience. All you need to do is to accessorize it for an evening out or keep it simple for a casual occasion and you are ready to go.
It is not just shift dresses and sun dresses that deserve a prime spot in your summer wardrobe essentials list.
Babydoll Dresses
The questionable name aside, these dresses are the cutest ever. Revived in the 1950s by Cristóbal Balenciaga and fiercely advocated by Hubert de Givenchy the Babydoll dress became synonymous with feminine power and liberation.
This incredible summer dress is perfect for those long barbecues where you find yourself drinking endless glasses of sangria and snacking on multiple fruits. You never have to worry about a bloated tummy when dressed impeccably in this masterpiece. Buy some of the best Babydoll dresses at Cinq a Sept, Alice + Olivia and Mac Duggal.
Maxi Dresses
Perhaps shorts became the summer wardrobe staple as one pair can be worn with multiple tops week after week, but maxi dresses offer benefits shorts never can. Maxi dresses are available in so many fabrics, necklines and designs, that you'll want to buy them all.
Pro tip: If you are below 5ft 5in in height, look for a petite version of the dress you like. You will not need to have the length altered. Here are my top three maxi dresses for the summer of 2021, white Luciana maxi dress at Anthropologie, cotton Madras halter neck at Ralph Lauren and pleated dress from ASOS.
Rompers
Rompers are another summer wardrobe essential. They offer the breeziness of dresses, with the ability to be a bit more active in them if needed. They're also great if you want to be a little more casual than a dress.
Check out this gorgeous linen blend one from Old Navy, this super fun denim one in multiple colors from Free People or this corset one with a super pretty flutter from Aritzia!
---
Jackets
If you are based in the UK, Canada, Northern California or anywhere that does not have scorching summers, you may need a light jacket or a cover-up in the mornings and evenings.
Most people tend to reach for denim jackets, but there are other options which have the ability to seriously enhance your summer wardrobe.
Leather Jackets
Leather jackets became popular in the early 1900s when German pilots started wearing them to protect against the cold when flying. Soon after that, they became the garment of choice for all pilots on account of their practicality.
When Irvine Schott introduced them as a fashionable garment and they caught on like wildfire. Now, they are available in the original pilot style called the bomber jacket, biker jackets and racer jackets.
We recommend buying them in a staple neutral such as these ones from All Saints, H&M and one fun color such as blue, red or olive from Levi's.
Duster Coat or Longline Cardigan
Duster cardigans also known as longline cardigans evolved from long linen or canvas coats worn by horsemen to protect their clothes from dust. They are available in a range of styles and fabrics and can transform a look entirely.
For its simple style, it lends a fantastic amount of dramatic effect to your outfit. As it flows gently behind you, creating a grandiose silhouette, the longline cardigan is a powerful style statement. Our top three picks are from J.Crew, Anthropologie, or Mango.
---
Shoes + Accessories
No outfit is complete without perfect footwear and accessories, so we cannot conclude a discussion on summer wardrobe essentials without these.
Sneakers
Before you roll your eyes and tell me they're not your style, listen to the perspective of someone who has always disliked sneakers. Although traditionally associated with a sporty style, sneakers look super cute when paired with dresses.
They are perfect for the summer as their thick soles make them an ideal choice for hours of standing or walking. Multiple brands have created sneakers in remarkable designs, looks and colors which makes the selection super fun to pick from. Take a look at these beauties fromSteve Madden,Banana Republic and UGG.
Flat Sandals
Slide style flat sandals are the definition of summer itself and they're an absolute must for your summer wardrobe.
They can be paired with absolutely everything and can be used to create a style statement with a bold color or made invisible with a classic nude or brown.
These are not new to summer wardrobes by any stretch of the imagination but they certainly are indispensable. Check out these beauties that you won't be able to resist; Steve Madden rock-stud sandals, Tory Burch gold flats and Michael Kors braided sandals..
Sandal Wedges + Platforms
If you want to spice up a look, a good pair of sandal wedges or platforms can keep your outfit breezy while adding an extra style element.
The Nixie sandals from Lulu's are a great budget pick. You can also go for a high-end pair from YSL or make a statement with Palomo Barcelo.
Kitten Heel Sandals
Nobody wants to be walking around in painful heels, especially during the summer. While you may not want to wear 6-inch stilettos on a night out, a pair of kitten heels can be the perfect alternative.
Scarf
A scarf? Isn't that for a winter wardrobe? This year, trendy silk and cotton scarves (also called bandanas) are becoming summer wardrobe essentials.
You can wrap them around your neck, tie them in your hair, wear them like a headband, or wear them as a face mask (because we're still in a pandemic). Some types can even be tied into a shirt! They really add a unique touch to any outfit and you can find them in a huge variety of prints and colors.
Stock up on this cute trend for super cheap at SheIn or find unique boho styles at Free People (or go above and beyond with the Gucci scarf we all want).