With a primary focus on providing reliable and comfortable work shoes, Snibbs aims to bring something different to footwear that everyone can benefit from.
With over three years of consistent research to develop an everyday work shoe that can handle it all, Snibbs is worth considering for a broad range of work environments.
In our Snibbs reviews, we're going to break down what makes their footwear different from the rest and if you should consider grabbing a pair for yourself. Let's dive in!
What is Snibbs?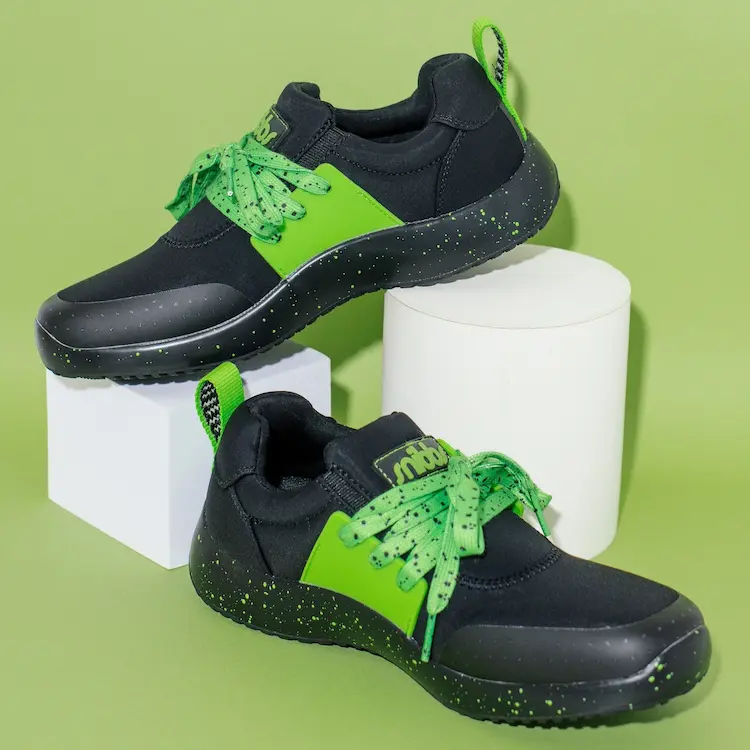 For those who work on their feet day all day long, Snibbs is there to provide a work shoe you can rely on. Founded in 2015 by a chef who was annoyed with his shoes falling apart all the time, Snibbs provides niche footwear for men and women.
The company features just two styles, the Orbit and Spacecloud designs. Less is more with Snibbs – both styles were designed to provide the support and durability needed in a work shoe, plus a bit of style too.
Snibbs implemented a variety of important features into their shoes, including a water-resistant upper material, slip-resistant design, custom Ortholite insole, easy slip-on design, wide toe box, and even more.
Their shoes may not be the best choice for more dangerous working environments such as construction as they don't offer the extra protection needed (this is where a quality pair of work shoes comes in). However, they can be perfect for medical facilities, food establishments, and even busy offices.
Snibbs Reviews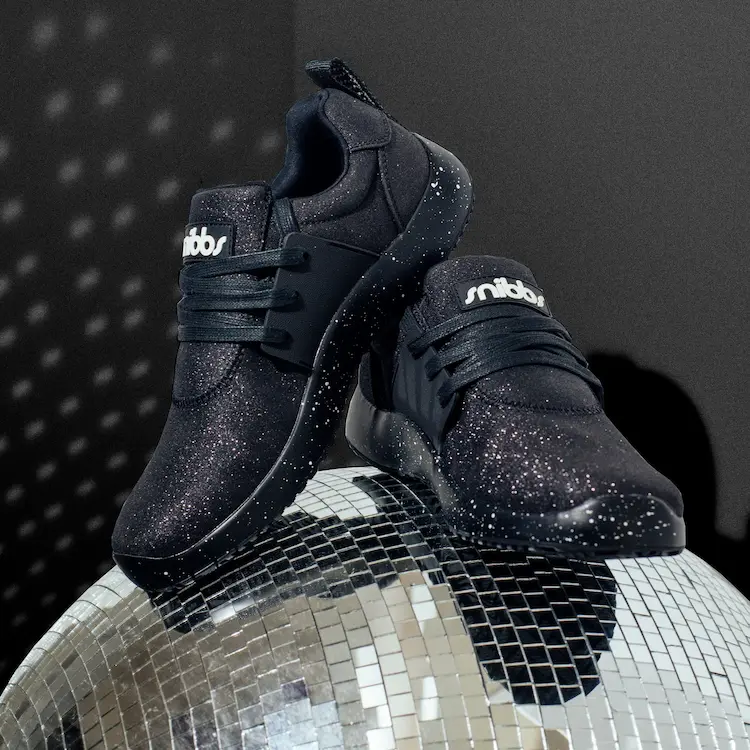 Overall Rating: ★★★ 2.75 Stars
There are thousands of satisfied Snibbs customers, but also quite a few unsatisfied customers. Most negative experiences are due to issues with customer service or the simple fact that their feet didn't respond well to the shoe's design.
The main downside to Snibbs is their customer service, plus the fact that you need to pay for returns (and the poor customer service makes it difficult to get a refund). If you want to give Snibbs a shot, make sure to keep in mind that you might not be able to get a full refund if you decide to return.
Honestly, there are so many comfy shoe brands that offer stellar customer service and free returns, we'd recommend trying some other shoes before giving Snibbs a shot. But if you've tried a ton of work shoes and are desperate for a solution, it might be worth it to you to try out Snibbs despite the poor customer service. Some people state Snibbs are the only shoes that give their feet relief.
Quality: ★★★ 3 Stars
This can be hit or miss depending on your standards, but their shoe's quality holds up pretty well for the most part. By no means are they perfect, but you'll be able to put them through plenty of wear and tear.
Each shoe is made from nearly 100% recycled materials, which consists of a premium knit upper and stratus-EVA midsole.
As far as support goes, some people love them and some people hate them. Since everyone's feet are shaped differently, it's hard to say if they will be a good fit for you. They do also tend to run small for many people, so it's worth checking into the sizing before you buy.
Pricing: ★★★ 3 Stars
If you plan on wearing these shoes every single day or on a consistent basis, they will likely only last a couple of years based on various Snibbs reviews we have looked through. This is bound to vary based on how you treat them, but this has led many customers to feel they're a bit expensive considering they don't last very long.
Many customers even experienced the shoe breaking down before they've even had them for a year. However, some state they are still in pristine condition after 1+ years, so this might just depend on how you treat your shoes and how often you wear them.
Snibbs shoes cost $139 to $149, which is definitely a bit costly in the eyes of many customers. They may not be the most expensive around, but some people think they aren't worth the price tag.
Customer Service: ★★ 2 Stars
Unfortunately, most Snibbs reviews that are negative mention receiving poor customer service. Many people experienced miscommunication and issues with returns, plus people weren't happy that Snibbs charges for returns. They even find it difficult to make a simple size exchange. Overall, buyers found it difficult to get their money back with the poor customer service.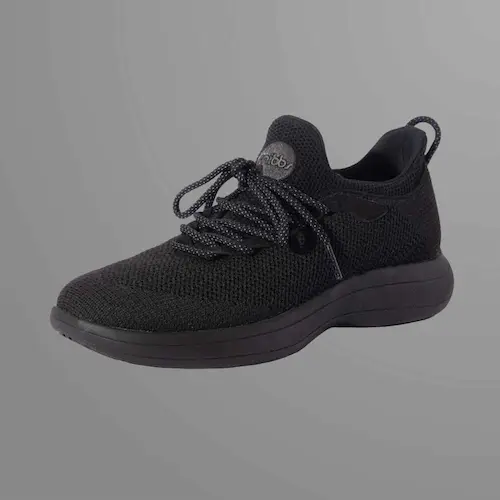 Offered in black, maritime blue, and a light green colorway, the Orbit is built for consistent movement and is crafted with an ultra-breathable premium knit material. You'll benefit from their lightweight construction, and the bottom is slip resistant.
The slip-on design makes them easy to take on and off, and they're more than flexible, which is great for people who are always on the go.
---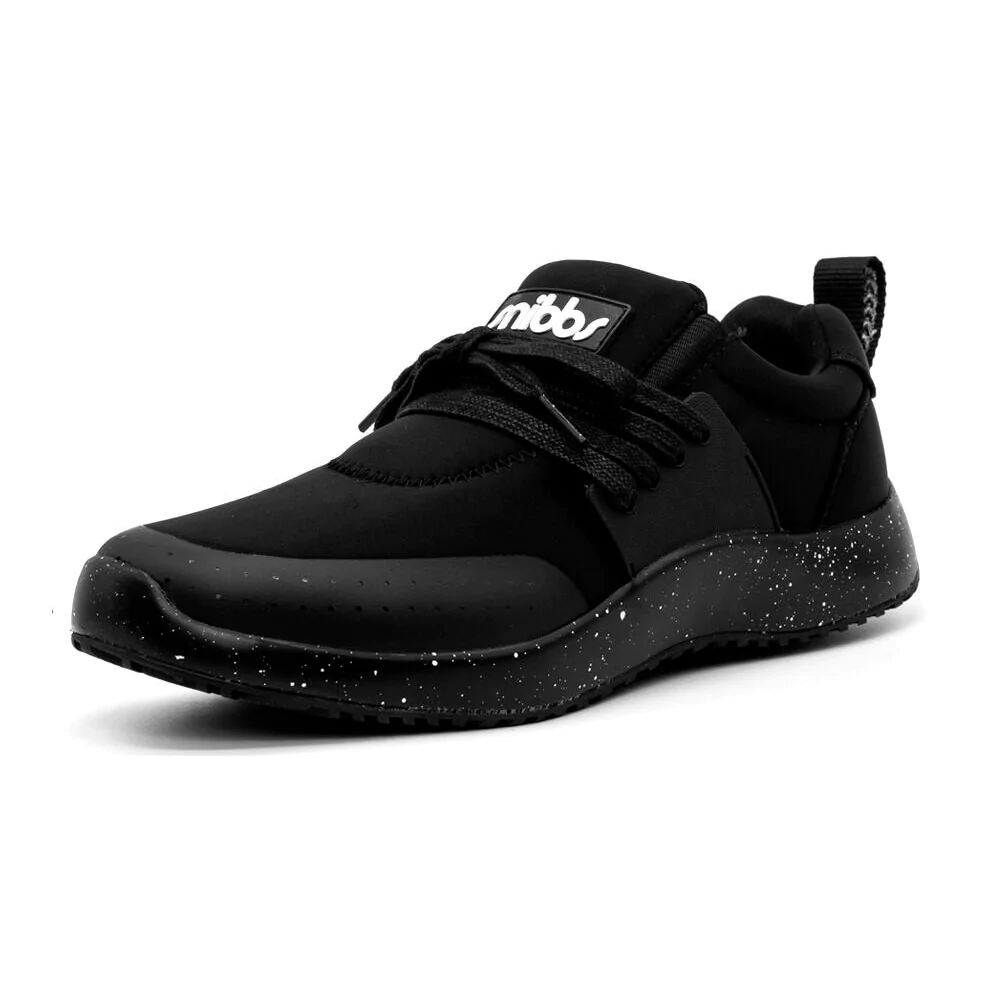 Snibbs aimed to create a more stylish option with the Spacecloud, with a more futuristic design available in many colors. They offer slip and water resistance and are crafted with a custom-formulated Ortholite insole.
Featuring an easy slip-on design, the shoes also come with an adjustable lace option. This design focuses on long-lasting, robust materials and a comfortable insole.
---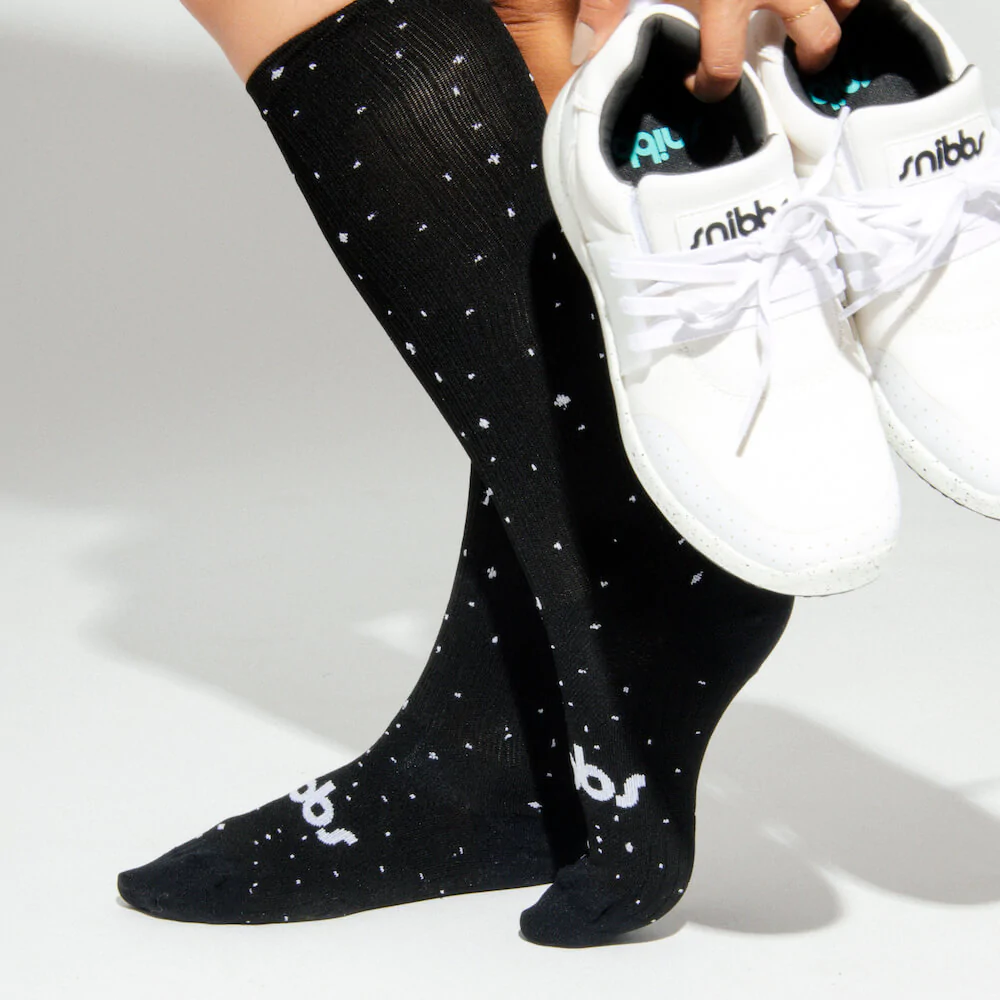 The company also offers compression socks which are a great pairing with their footwear. They're made with a blend of materials such as 75% polypro, 15% nylon, and 10% spandex, which is optimal for all-day comfort.
You'll also find features like a seamless toe and structured construction, cooling mesh material, and EZ-on stretch compression.
What Customers Are Saying
Among the numerous reviews we found online, there were a few recurring sentiments that were shared by most customers.
Customer service isn't the most helpful
They don't always honor their return policy
The shoes will only last a couple of years
Their shoes are somewhat pricey
People tend to like the aesthetics of their designs
Return Policy
Snibbs offers a 30-day return policy. For the items to be accepted, they can't be worn outside, unclean, or damaged. Returns must also include all packaging and included materials.
Buyers are responsible for return shipping, and Snibbs will provide a refund if the shoes are returned in their original, brand-new condition.
FAQs
How does Snibbs make their shoes?
Sustainability is the name of the game. Snibbs creates their shoes with a range of eco-conscious materials. Midori-Bio's organic additive is a big part of the process, and the construction is crafted from nearly 100% recycled materials.
Who created Snibbs?
The brand was born through a collaborative effort between Daniel Shemtob, Dr. Snibbe, and Haik Zadoyan.
Where are Snibbs shoes made?
Each design is created in Los Angeles, but all of the manufacturing is handled in China.
Final Notes
Overall, Snibbs could end up being worth it for you, but we'd only recommend giving them a shot if you've already tried many work shoes that haven't been what you hoped.
The poor customer service at Snibbs makes it difficult to get refunds or even make a simple size exchange, so there's really no guarantee you'd get your money back if you don't like them. Plus, you can only make returns on unworn shoes in new condition, which makes it difficult to get a real feel for the support. You'll only really know if they're good for your feet after wearing them for many hours.
Many people have also stated the quality isn't worth the price, claiming their Snibbs only lasted 1–2 years (or even less for some customers). However, some people state Snibbs changed their life and were the only shoes that worked for them, so they may end up being worth it if you have struggled to find the right work shoes.
Snibbs Alternatives