Everyone needs a quality pair of quality jeans that can take you from morning to night, and what better place to shop for a pair than a clothing brand known for its quality and style: Paige. 
Paige jeans are contemporary and fashionable, but definitely in the higher-end of the price spectrum. In our Paige jeans review, we're going to dive into whether or not its jeans are worth the hype. 
What Is Paige?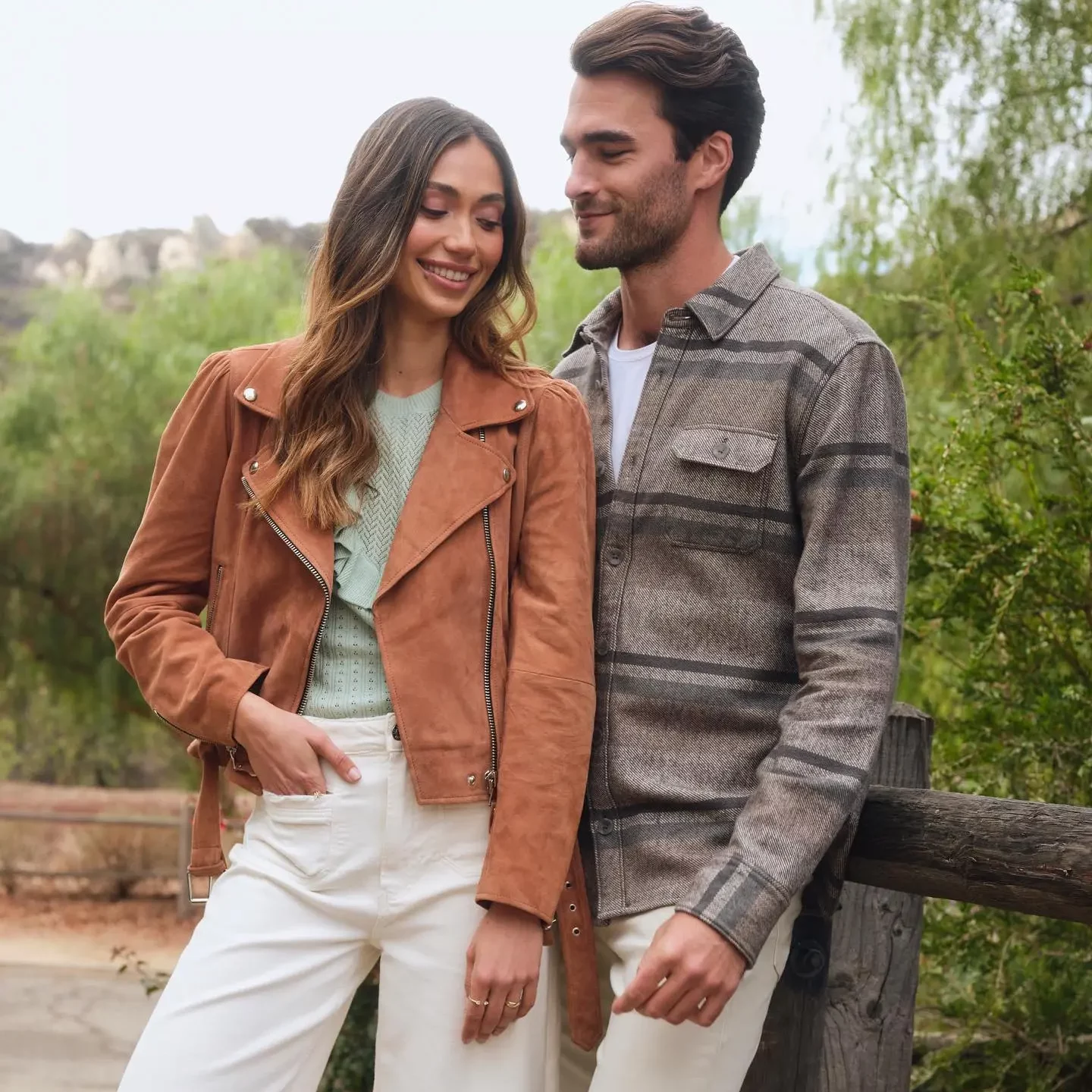 Paige is a clothing brand based in Los Angeles, California that was founded in 2004 by creative director, Paige Adams-Geller.
Paige originally began as a denim brand for women, which explains why its jeans are so popular and renowned in the fashion sphere.
Offering seasonal favorites and wardrobe staples, Paige is a one-stop shop for women and men looking for modern apparel for everyday life.
Paige Jeans Review
Overall: ★★★★★ 4.5 stars
Overall, Paige jeans have stellar reviews across the board. Not only are the pants super comfortable, but they have an amazing fit and are made with quality materials. 
The only thing that may disinterest shoppers away from Paige is that some customers say that some jeans stretch a little too well, resulting in a looser fit over time.
Of course, Paige jeans are also on the spendier side of the spectrum (typically a bit over $200 per pair), which can be a turn-off for some. But, if you can afford the cost, the quality is impressive. Their jeans are a wardrobe essential that will last for years.  
Quality & Materials: ★★★★★ 5 stars
Paige jeans are made of quality materials like cotton, elastane, and the company's very own Transcend denim, which is a shape-retaining fabric that's extremely comfortable and perfect for everyday wear.
Customers are in love with how soft Paige jeans are but some shoppers state that some pairs of jeans don't go back to their original fit and get loose after a certain point of using them.
Price: ★★★★ 4 stars
Paige jeans are certainly not cheap, with typical jeans prices ranging from $150 to $300.
Their denim collection is definitely an investment, but shoppers who own a pair of Paige jeans can't stress enough how much they're worth it.
However, if you're balling on a budget, Paige's prices aren't the best. Instead, we'd check out Madewell jeans or Everlane jeans, both of which are a bit more affordable. You can also check out online thrift stores (such as ThredUp or Poshmark) to see if they have any Paige jeans for better prices.
Sizes: ★★★★★ 5 stars
Sizes are pretty inclusive over at Paige.
The brand has a plus-size department for jeans that go up to size 26W, so if you're a plus-size body looking for some awesome jeans, Paige is a great place to browse through.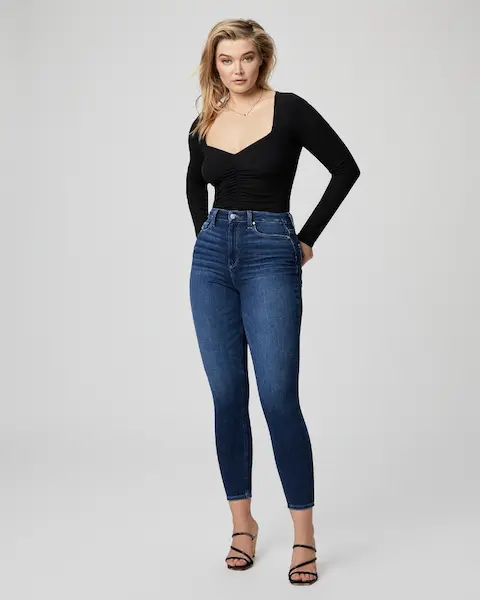 Paige's Flaunt Denim collection is a collection dedicated to embracing every curve.
Featuring denim and shorts, the Flaunt Denim collection has designed silhouettes to flatter, accentuate, and enhance hourglass figures by having waist-huggings fits.
Available in sizes 23 to 34, Paige's Flaunt Denim features denim at different lengths and cuts in the colors black, blue, and white!
Customers are loving the jeans in this collection due to their comfortable stretch, flexibility, and stylish cuts.
---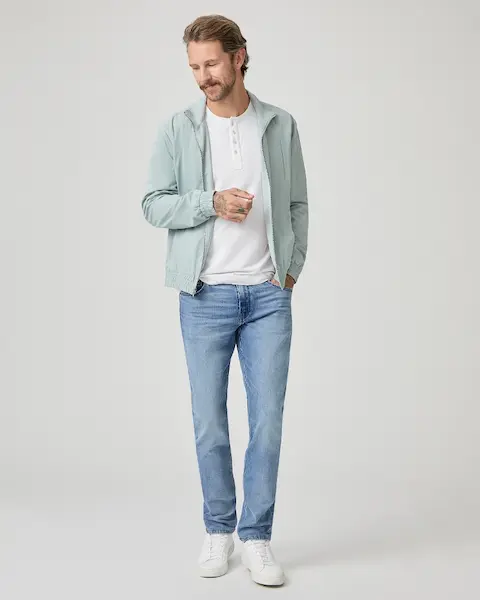 Paige's Transcend Denim collection is part of the apparel Paige offers for men.
This line is made with high-quality materials featuring a mix of cotton, elastane, polyester, and 52% rayon, which is a semi-synthetic fiber made from purified cellulose fibers like wood pulp.
Rayon is a game-changing fabric that can have the same smoothness and sheen similar to silk but is more affordable to produce and is easier to take care of.
That said, it's no wonder Paige's Transcend Denim line is so highly revered for being super soft, innovative, and comfortable!
---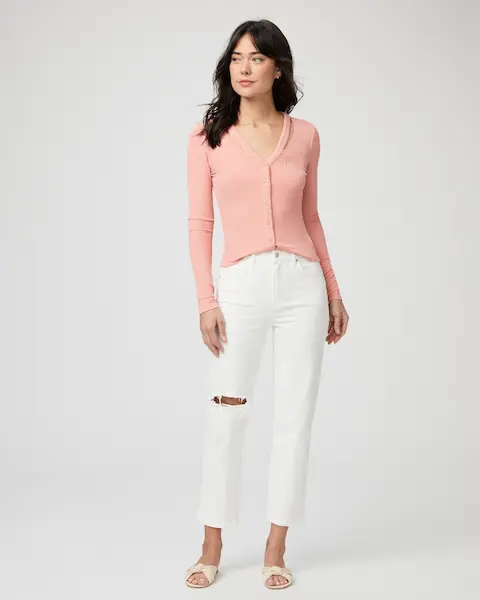 White jeans are a wardrobe staple, but sometimes it can be hard finding a quality pair that's stylish and a good fit.
Luckily, Paige carries a ton of white denim that's flattering and fit and will keep you at ease throughout the day.
If you're looking for different cuts and silhouettes in white denim that'll compliment any body type, Paige is the perfect place.
---
Return Policy
Paige offers a 30-day return policy and will accept any defective item for a refund.
All bodysuits and face masks are final sale, and all additional items must be in their original, unworn condition with tags still attached.
FAQs
Is Paige a luxury brand?
Paige defines itself as an attainable contemporary luxury brand with a cool and effortless aesthetic. Depending on who you ask, they would classify Paige as a luxury brand or a mid-range brand.
Where is Paige located?
Paige is headquartered in sunny Los Angeles, California.
Who is the owner of Paige?
Paige was created by Paige Adams-Geller who first dropped Paige as a denim line.
Final Verdict
We think Paige jeans are a total must-try, but only if you're ready to splurge.
We will admit that Paige jeans aren't the most affordable, but they are worth it for the price and the quality of the materials. If you're looking for a good pair of jeans that will last and are super comfy, Paige is definitely a brand to keep in mind. 
That said, don't feel bad if you don't want to shell out $200+ for a pair of jeans. There are plenty of other great brands that are more affordable to consider (check out some of our favorite alternatives below).
Paige Jeans Alternatives