Everyone should own a trusty pair of denim jeans.
There's something so empowering about putting on jeans and knowing it hugs you in just the right places and accentuates the best parts of your body. That's the promise the clothing brand, MOTHER, offers to its customers.
Best known for its denim, MOTHER's mission is for everyone to be themselves and not take life too seriously. But are their jeans worth it? Read our MOTHER denim review to find out!
What Is MOTHER Denim?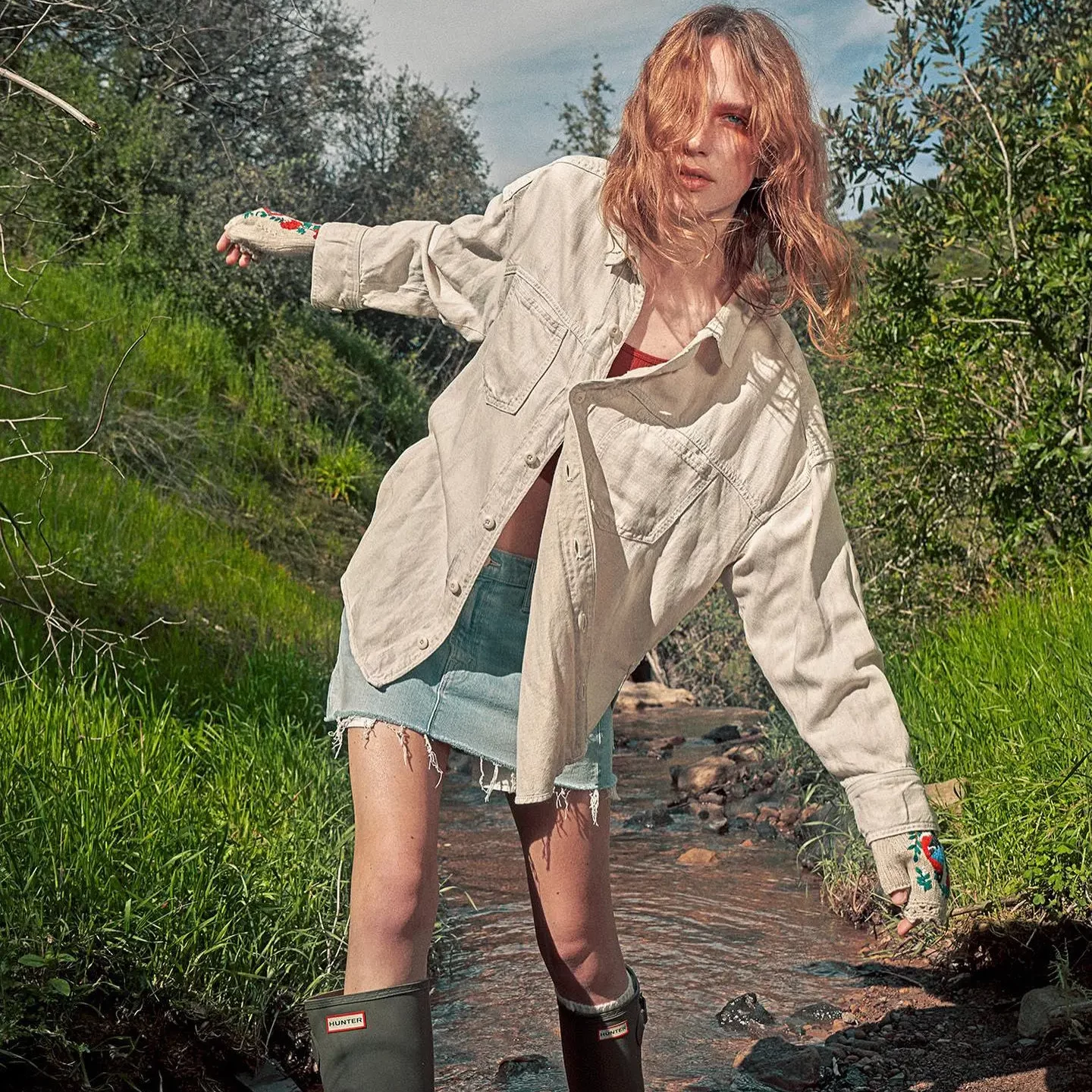 MOTHER is a clothing brand that was founded in 2010 by Lela Becker and Tim Kaeding. 
Based out of Los Angeles, California, the brand is best known for its denim and jeans, but has expanded to also offer accessories, outerwear, and sportswear.
MOTHER aims to evoke the feeling of growing up in California in the '70s — brazen, unfiltered, cool, and beyond fun. 
MOTHER Denim Reviews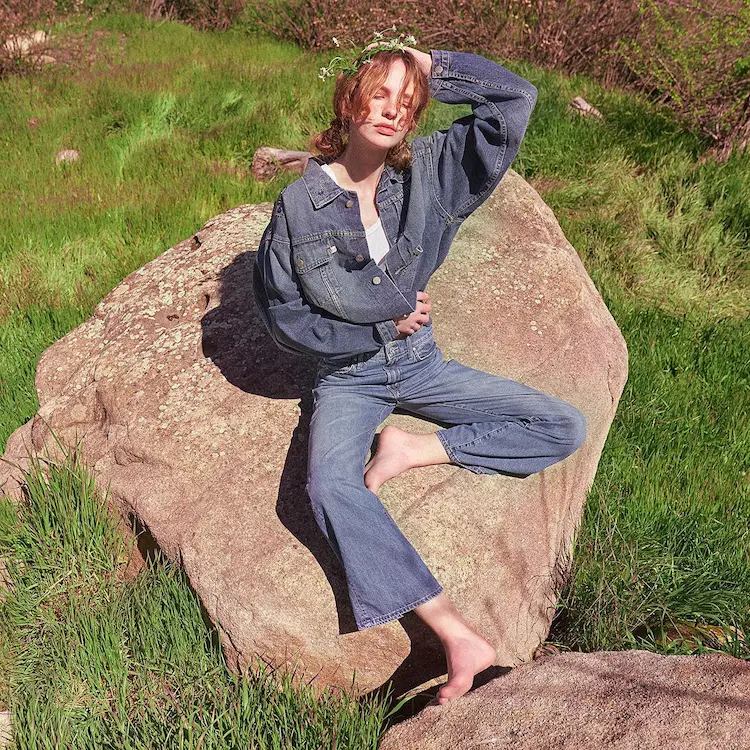 Overall: ★★★★★ 4.5 stars
MOTHER's jeans have some stellar reviews across the board and are widely perceived as a quality, reputable fashion brand.
I have purchased 4 pairs of jeans from MOTHER (yes, with my own money) and they are my favorite denim brand. Not only does their denim feel ultra-comfortable, but their stretch denim hugs my body perfectly. I struggle to find jeans that are stretchy enough to accentuate my curves without causing a massive camel toe, but MOTHER jeans are perfect. Plus, the quality is amazing – you definitely get what you pay for.
My only complaint is that some of their jeans are long, I'm 5'4 and two out of four pairs of jeans I got from MOTHER are just slightly too long. It would be nice if they offered short styles like some jeans brands do. One of the too-long pairs has frayed ends, so it's not as easy to get those hemmed unless I go through and re-fray them.
Quality: ★★★★★ 5 stars
MOTHER's denim quality is no joke. 
Known for being butter soft, extremely functional, and impressively flexible, MOTHER's denim line doesn't play around. Mainly made with cotton, lyocell, polyester, and elastane, Mother jeans and denim clothing will be your favorite in no time.
Not just that, but MOTHER products are produced locally in Los Angeles, staying within a 15-mile radius. 
Price: ★★★ 3.75 stars
Of course, MOTHER denim certainly doesn't run cheap. 
All their denim products, including jackets and skirts, can range from $170 to $700. MOTHER is definitely an investment, but many customers justify the price because of how amazing the quality is. 
So if you decide that MOTHER denim is worth the money (I think they are), you'll be guaranteed that your denim products will last a while.
Styles: ★★★★★ 5 stars
MOTHER carries all kinds of styles to make your fashion heart content. 
From cropped jeans and high-rise jeans to shorts and skirts, MOTHER offers everything you need to create the most iconic denim outfits.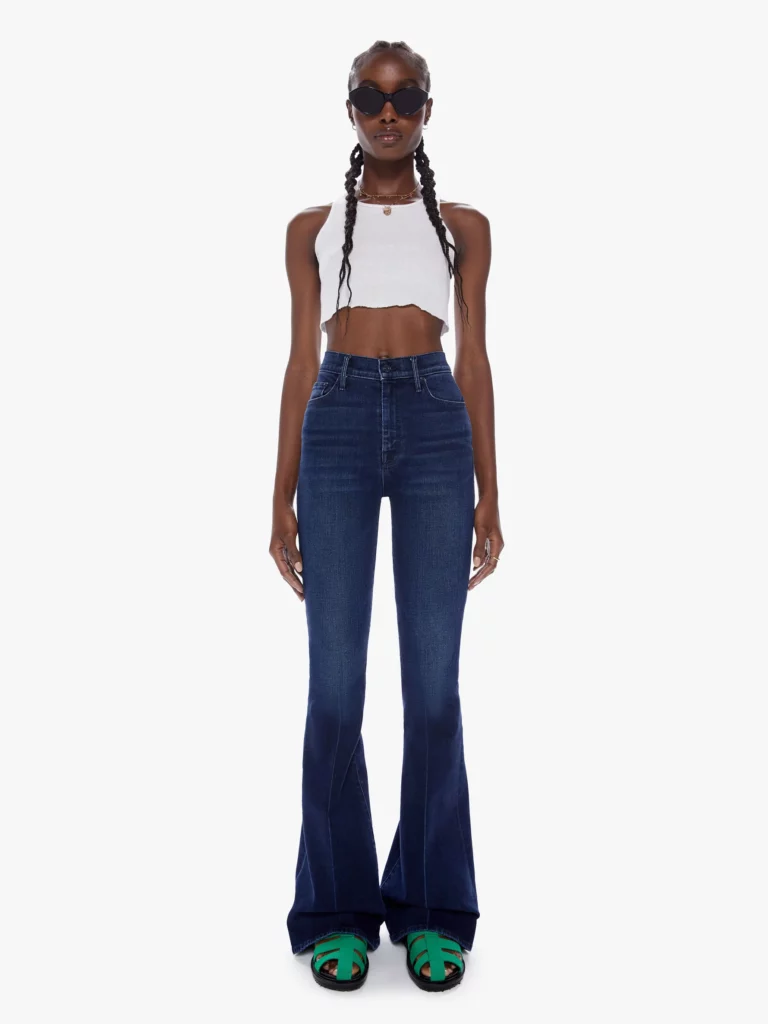 Sizes: 23 – 34
Available in three washes, The Super Cruiser is one of the best-selling styles on the website. 
The Super Cruiser is a high-rise flare made from stretch denim. These jeans are made of 64% cotton, 22% reused cotton, 13% recycled polyester, and 1% elastane for flexibility, functionality, and style. 
Customers are completely in love with these jeans and how well they accentuate the body and figure! These jeans can be yours for $238.
---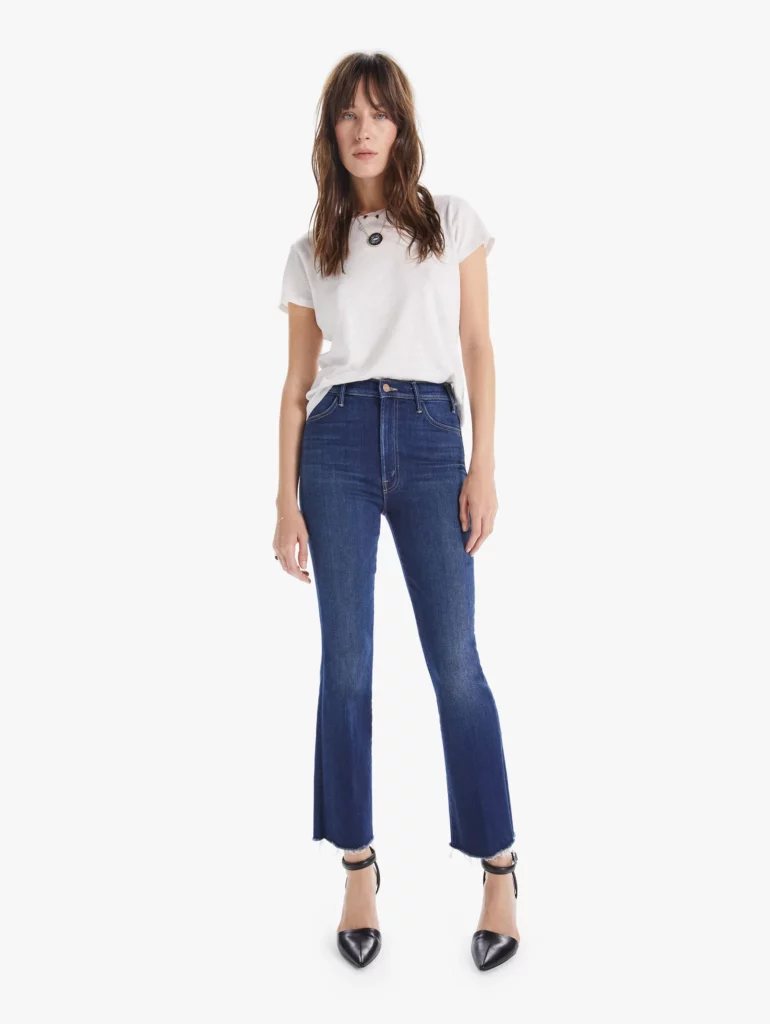 Sizes: 23 – 34
Available in 10 awesome washes, The Hustler Ankle Fray is for sure a style from MOTHER you want to have in your wardrobe. 
Not only are these jeans high-rise, but they also feature a raw hem and an ankle-length inseam. Made with stretch denim, these jeans are characterized by a slight fade with whiskering at the bottom for some extra flavor. 
Snag these jeans for yourself for $238!
---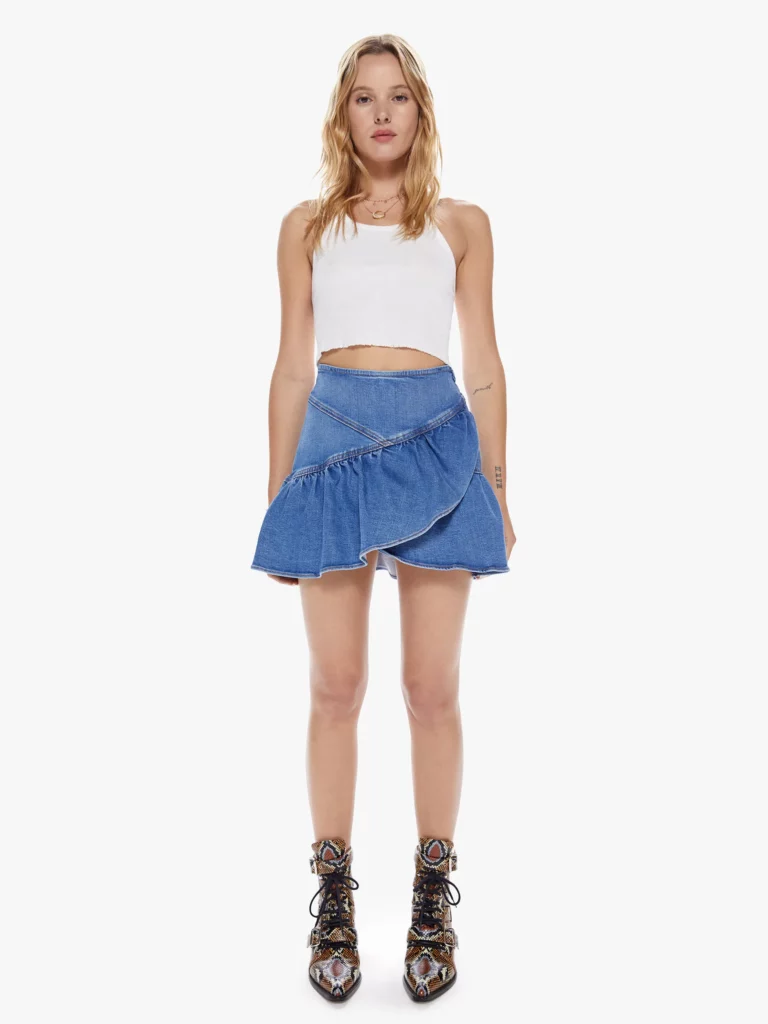 Sizes: 23 – 34
Now that the days are getting warmer, what better way to cool down and show some skin than wearing a good and trusty mini-skirt? 
The Minx Mini Skirt is a contemporary and unique spin on the timeless mini skirt that features a high-rise cut, a side zipper, a snug waist, and ruffles along the hem that cut diagonally across the front.
This skirt is fun, comfortable, and a little sporty! Available in 3 washes, The Minx Mini Skirt is up for grabs for $208.
What Customers Are Saying
With these prices, we totally get it if you need a second opinion — or even more! Here are what real customers are saying about MOTHER denim.
The jeans are so buttery soft
The pants fit so well, but the waist runs a little small on some styles
Definitely double-check the size guide before placing an order
Expensive, but the quality is worth the money and they will last forever
Stretchy fabric accentuates your curves
Sizing isn't very inclusive
Some styles are too long for shorter people (I'm 5'4 and two pairs I purchased are slightly too long)
Their white denim isn't see-through
Return Policy
MOTHER offers a 21-day return policy. To be eligible for a full refund, all items must be in an unworn and unused condition, along with be in the original packaging with the tags still attached. All items that are final sale or are discounted are not eligible for returns. 
You can also find MOTHER denim products at other retailers (such as Nordstrom), which each have their own policy that you should look for. I prefer shopping for them through Nordstrom since I can just easily return to a local store if they don't fit.
MOTHER has become pretty popular, so you can find them at most large retailers. They are at Nordstrom, Bloomingdales, Free People, Shopbop, Revolve, Neiman Marcus, Saks Fifth Avenue, Anthropologie, and even more.
FAQs
Where is MOTHER made?
MOTHER is made locally in Los Angeles, California.
Is MOTHER a good brand?
MOTHER has some very high-ranking reviews across the board, with many customers being extremely satisfied with their purchases and the quality of the material. I have four pairs of jeans from the brand and absolutely love them, the quality and fit is out of this world.
Who owns MOTHER?
MOTHER is owned by founders, Lela Becker and Tim Kaeding. 
Final Verdict
Is MOTHER worth the hype? They are definitely worth the money to me, but you can live without them if you don't want to spend that much on a pair of jeans. As much as we love locally-made and locally-manufactured fashion, there are certainly other options out there if the thought of spending $200+ on a pair of jeans gives you anxiety.
But personally, MOTHER is my favorite denim brand. I love their stretchy, quality denim and variety of high-waisted styles. For someone who is curvy, their jeans are a dream come true. I've struggled to find jeans that show off my curves without also showing off a camel toe, so I'm happy investing in a pair of MOTHER denim every few months. But if you don't struggle to find good jeans like I do, you might not be as impressed with the brand.
Apart from that, I can tell that their jeans are of fantastic quality that will last me years. The first pair I bought, I wore almost daily for months, yet it still looks and feels brand new.
And if you can find them on sale or pre-loved for better deals, you better snatch them up.
MOTHER Alternatives