Bodysuits are still popular in 2021 and can be worn year round. But, many of us can be torn on how to wear a bodysuit – especially with the changing seasons and so many bodysuit styles available.
The best thing about bodysuits is they can come in a huge array of shapes, styles, and colors. Pretty much any type of top can be re-designed into a bodysuit! From one-shoulder designs to cutout features to turtlenecks, there is so much opportunity.
That said, we are here to break down which style pairings would look best in any season!
How To Wear A Bodysuit In Any Season
Here are a few ideas for rocking a bodysuit, no matter the season.
Long-Sleeved Bodysuit
Bodysuits can still be worn in the winter. There are a lot of long-sleeved bodysuit options available from all the top brands to keep you warm.
You can pair them with some jeans, booties or sneakers, and throw a jacket over for that extra layer of warmth to keep you going when out running errands.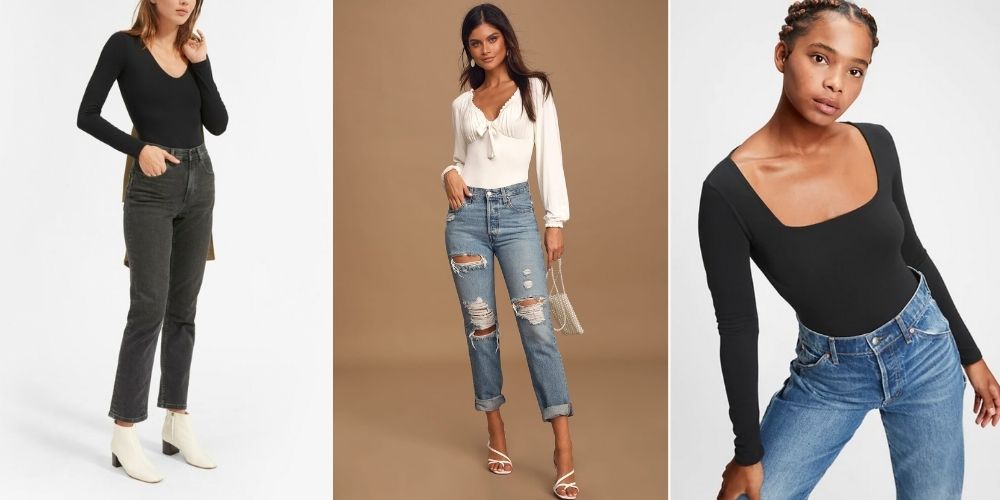 First Image Source – Second Image Source – Third Image Source
High-Waisted Jeans
One of the most common questions asked online is not just how to wear a bodysuit, but what jeans would work best with one.
After scouring the web for finding the best type of jeans to wear with any bodysuit, high-waisted jeans came out on top. They look flattering on a majority of body types and will even add a little extra warmth in the winter time. Although, high-waisted jeans can work for any season.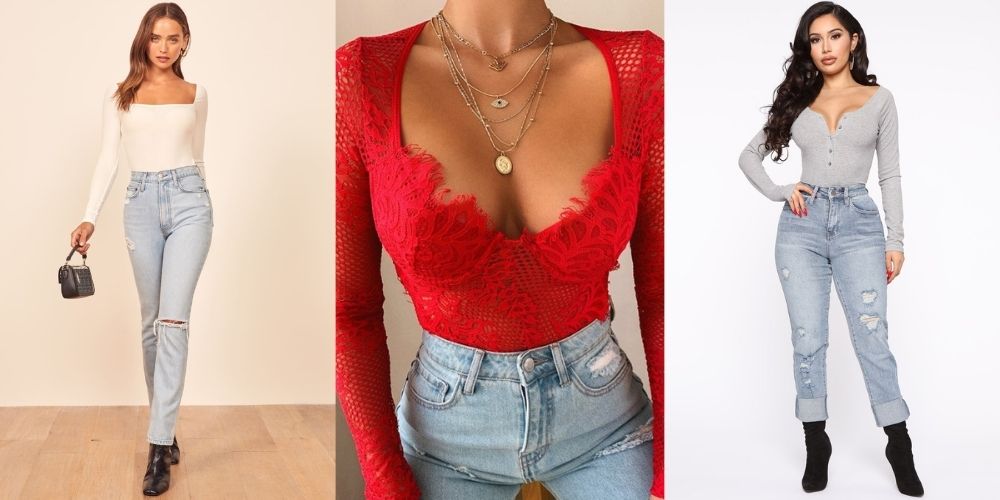 First Image Source – Second Image Source – Third Image Source
There are different types of high-waisted jeans, including skinny jeans, boyfriend jeans, bootcut jeans, among others. Overall, high-waisted jeans are by far the most popular bottoms to pair with bodysuits.
Note: This can also apply to high-waisted shorts!
A-Line Skirts
A-Line skirts look cute when paired with bodysuits. They are fitted at the hips and gradually widen towards the hem, giving the impression of the capital letter A.
If you are looking for a dressy, but casual way to spruce up your bodysuit this spring, then the a-line skirt is your best option.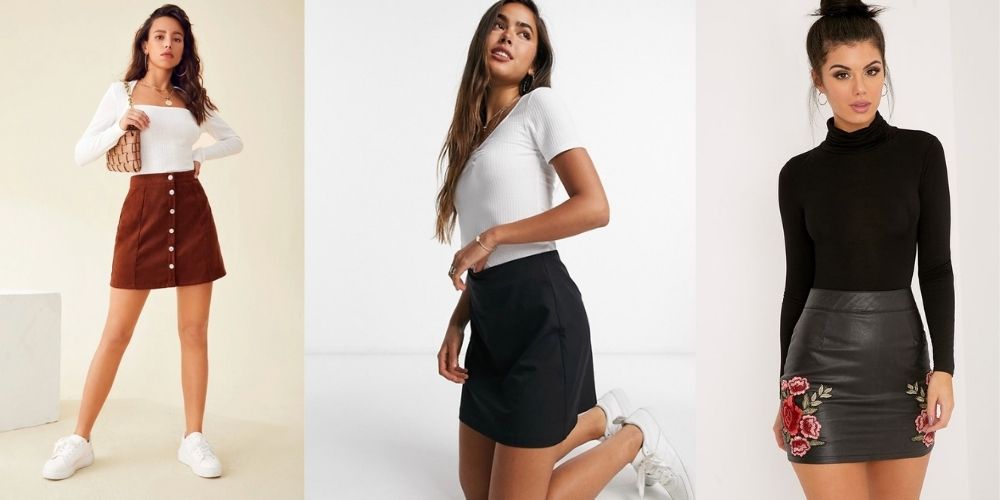 First Image Source – Second Image Source – Third Image Source
Since these skirts go from fitted at the top to flared at the bottom, they look great when paired with with a fitted bodysuit!
Short Sleeved + Tank Top Bodysuits
Short sleeved bodysuits or tank top bodysuits can become a staple in your summertime outings. They can be paired with virtually anything- shorts, jeans, high heels, and skirts.
You won't be asking how to wear a bodysuit in the summer when there are a ton of short-sleeved options!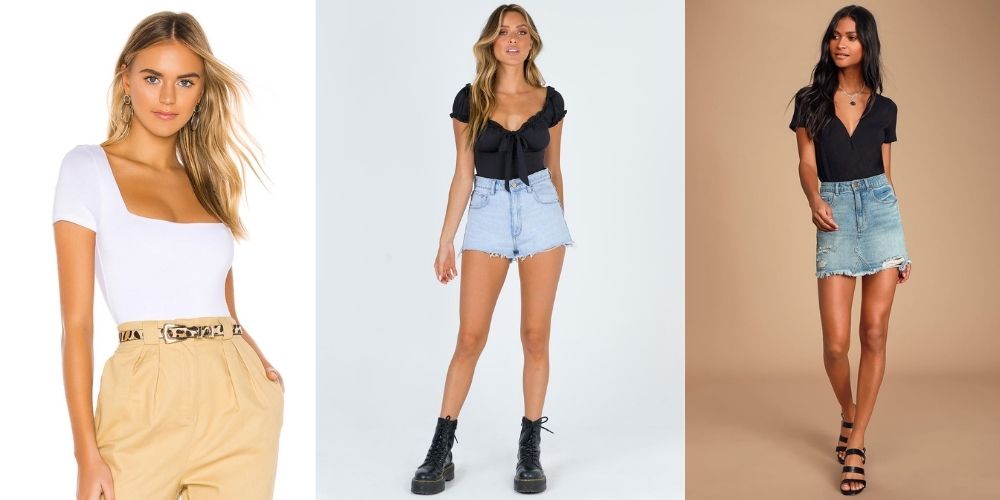 First Image Source – Second Image Source – Third Image Source
High Heel Shoes
When it comes to shoes, nearly any pair of shoes can be paired with a bodysuit (depending on what bottoms you choose).
If you're looking to dress up your bodysuit outfit, high heels are perfect. From high-heeled sandals to booties, these are a lovely choice to pair with a bodysuit and really bring your outfit to the next level!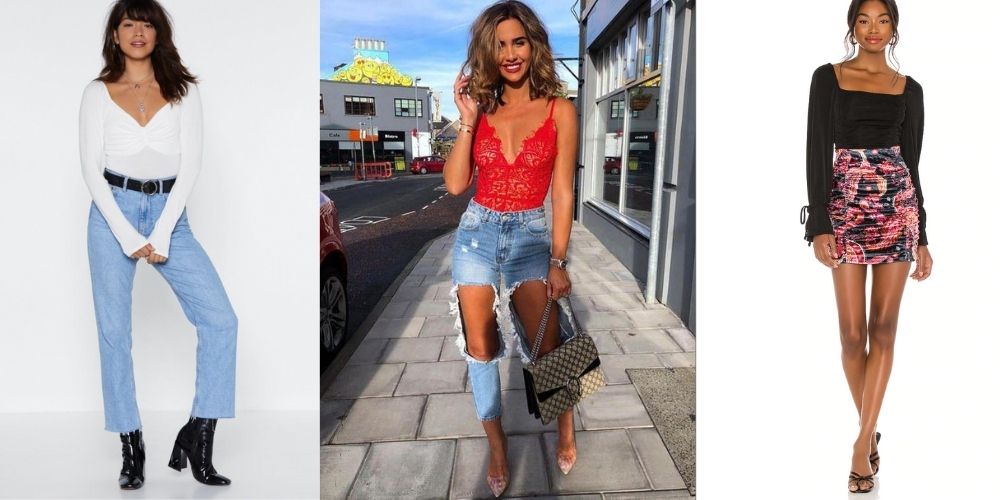 First Image Source – Second Image Source – Third Image Source
Open-Back Bodysuits
Open-back bodysuits can be worn during any season, but will make a great asset to your closet for the fall. A long-sleeved option will keep you warm enough on those chilly fall days and are the perfect compliment to pair with your favorite pair of skinny jeans.
The open-back feature adds a unique, sexy, and fashion-forward touch to this simple garment.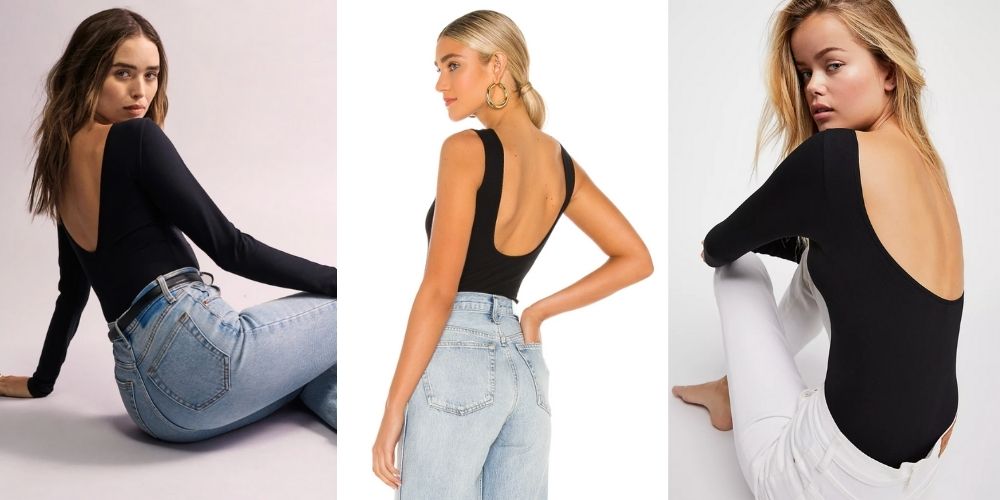 First Image Source – Second Image Source – Third Image Source
Denim Jackets
Another important question to ask is what to wear over a bodysuit. A widely-accepted style that is paired with bodysuits are denim jackets.
Jean jackets have been around forever and never go out of style – pair one this fall for looking extra chic.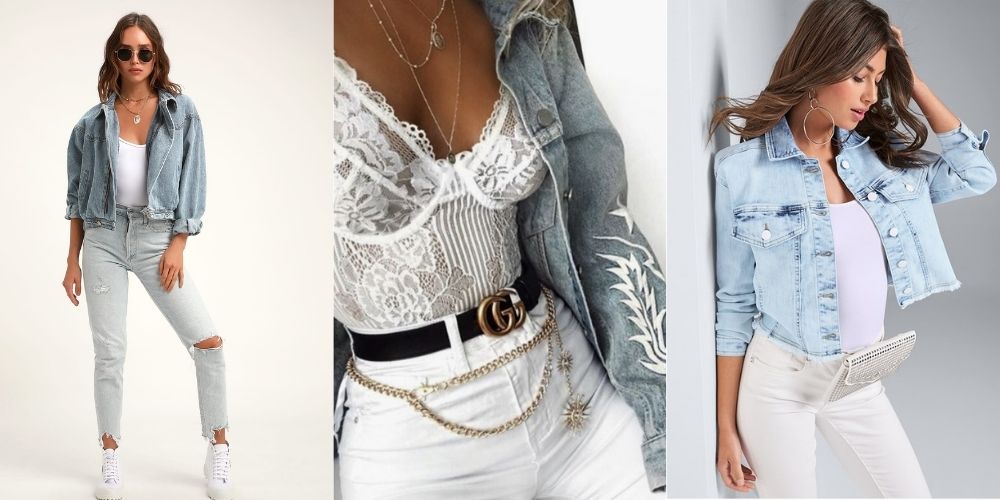 First Image Source – Second Image Source – Third Image Source
If you want a more luxurious look, pair your denim jacket with a lace bodysuit and white jeans, plus plenty of accessories like the outfit inspiration photo above!
Bodysuit FAQ
Do bodysuits run true to size?
This all depends on where you're buying the bodysuit. Wherever you're shopping from, make sure you check their sizing chart and reviews to see if they run true to size. Since a lot of bodysuits are tight and fitted, you might want to size up if you're not sure.
How do you wear a bodysuit if you have a tummy?
Pairing them with high-waisted bottoms can be a great way to hide your tummy. It also helps to choose a bodysuit that brings attention away from the stomach area (such as something that shows off cleavage or has panels). 
Do you wear a bra under a bodysuit?
This is all up to you! You may want to wear a bra if you're wearing a sheer bodysuit or something extra busty, but it's definitely not a requirement. 
What underwear do you wear with a bodysuit?
You can wear any type of underwear with a bodysuit. Some people don't like to wear underwear with them, but this can be uncomfortable depending on the bodysuit and can cause staining. 
What's the difference between a teddy and a bodysuit?
The two are essentially the same, but a teddy is the term typically used for lingerie. These are usually a lot sexier than a regular bodysuit, and may not be something you'd want to wear out in public.