When it comes to fashion accessories, some of the greatest come in the form of headwear. From scarves to scrunchies, they all have their own way of making a statement. One type we're absolutely living for is berets. If you're new to the trend, you might be wondering how to wear a beret.
Berets are a chic and classic accessory for everyone whether you're going for a book-loving, coffee-shop look or a high-end beauty that just got back from traveling Europe. We're going to talk all about berets, their style, what to pair them with, and how to wear a beret properly. Let's dive in!
How To Wear a Beret
To start, how do you actually wear a beret? There are two main ways to do it. You can either wear it tilted or full.
Place on your head. Make sure the beret is just barely over your ears.
Tuck it in. Do this by pushing the brim up and under, then adjusting to cover so that it does not show.
Next, pull one side of your beret down to style properly. Make sure you pull it over your ears to create the proper look.
Adjust to your liking. There are so many different ways that people wear berets, so playing around until you like it is the main component to wearing one. Otherwise, there is no true right or wrong way to wear one.
Lastly, secure your beret. You can do so with bobby pins, clips, or other fashionable devices to hold it still. If you don't do this, your beret can easily slide and fall off.
---
Beret Outfits + Hairstyles
As far as outfits to wear your beret with, it's just about personal preference. Are you going for a more loose-fitting look or tightened down, secure appearance? We're going to talk more about how to style a beret and some cute outfits as well as hairstyles to pair them with.
---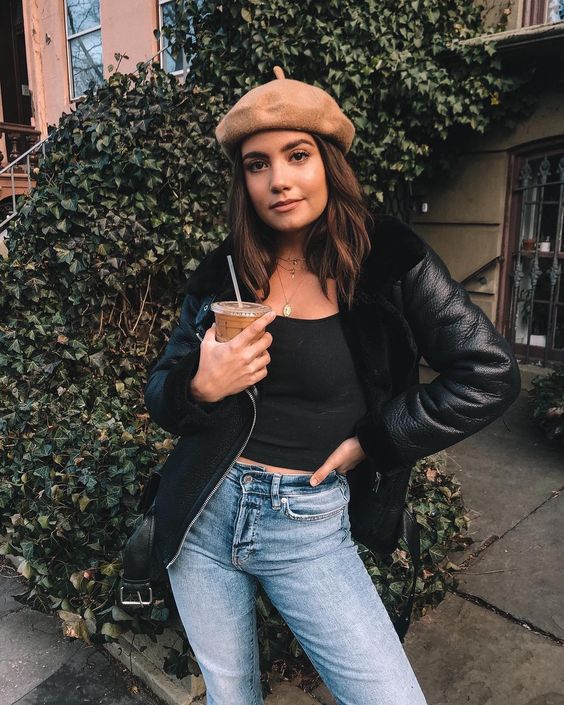 Keep It Casual
One of the best outfits to wear with the beret trend is a simple, casual look. This could be a long-sleeve shirt tucked into pants with casual sneakers. Even a loose-fitting tea with mom jeans & a jean jacket looks great with a beret.
A beret is one way to bring some excitement to a simple outfit and gives off the coffee shop/art student vibe.
---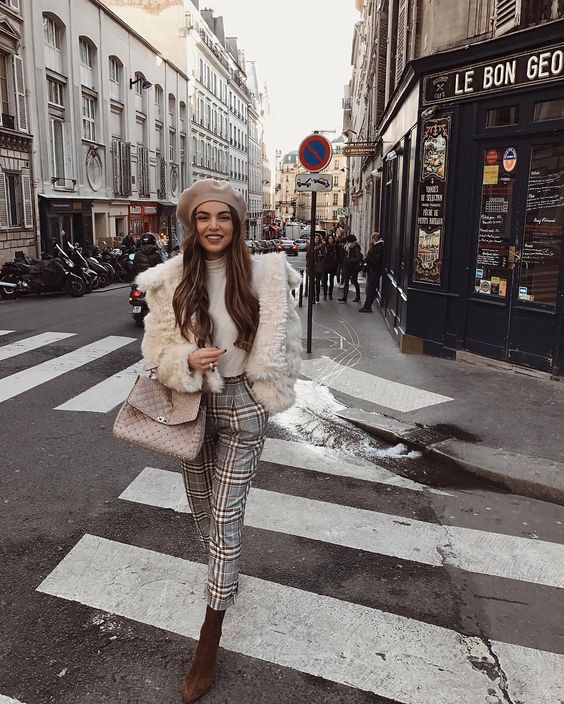 Get Luxurious
When it comes to beret fashion, you can also pair these hats with a designer outfit. I'm talking about luxury clothes, high-end bags, and sexy shoes. You probably see this look a lot with berets, as it's definitely become a huge hit in the fashion world. And obviously you don't have to buy designer names if you're on a budget, just opt for some dupes. Some ideas:
Long camel coat, tight pants, stilettos
Crop top, skirt, leather jacket, Doc Martins
Fur jacket, designer bag, heeled booties
The sky's the limit when it comes to what berets can be paired with, but these are definitely some of our favorites.
---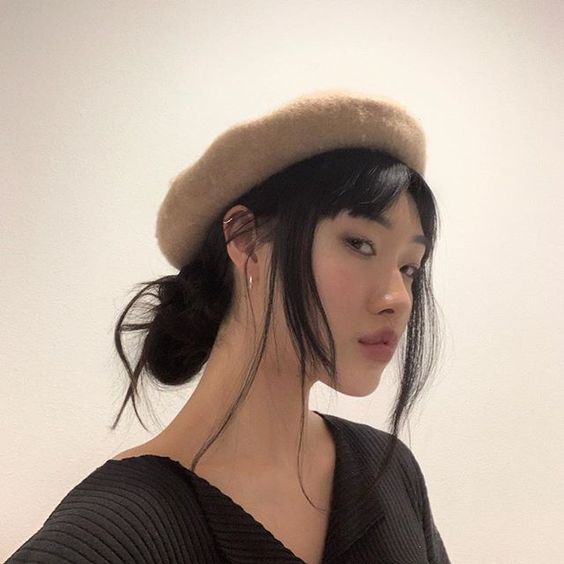 Beret Hairstyles
When it comes to how to wear a French beret, we have to mention there are quite a few hairstyles to pair this accessory with. They can often be challenging to wear if you have big hair, so tying your hair to the side is a great fix (even if you don't have big hair). This could be in the style of a fishtail braid, two brads in the front, a side braid, or even pulled to the side.
But, in many cases, simply wearing your hair down looks beautiful with a beret (especially when you've got a little curl going on)!
---
---
Bottom Line
In conclusion, when it comes to how to wear a beret, there are many different outfits and hairstyles to pair it with. Wearing a beret is all about self-expression. Don't be afraid to experiment with this artistic, chic look! You may find that you create your own unique trend that looks even better than the styles listed above.