If you love to look stylish while going on a trip—or anywhere in general—but don't know where's the best place to get cute bags and carriers, Beis might be your new best friend. 
Providing luxury without breaking the bank, Beis ensures its shoppers will find everything they need whether they're packing for a long vacation, a weekend trip, or even a gym session.
But does Beis really deliver? Read our Beis luggage review to learn all about this brand and if they're worth the money.
What Is Beis?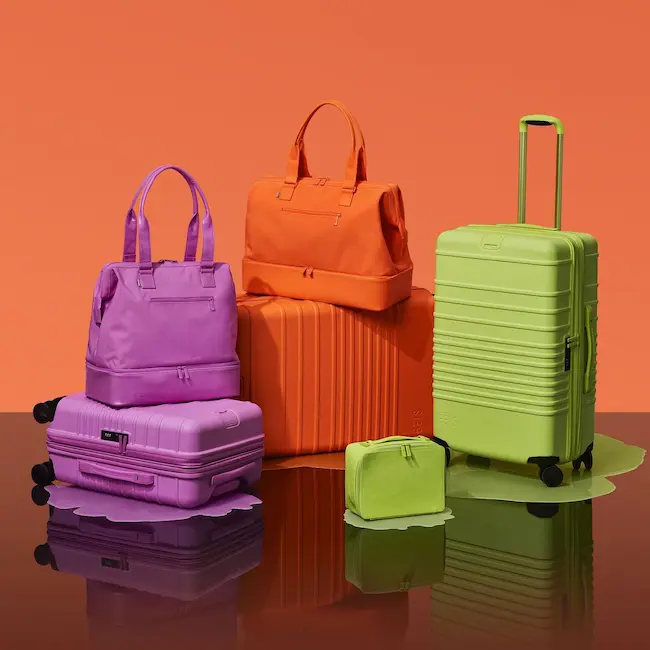 Beis is a travel brand that offers essential accessories and bags for fashion-forward individuals.
The brand was founded in 2018 by none other than celebrity and influencer, Shay Mitchell, who wanted to create products that were chic, functional, and affordable.
Beis Luggage Review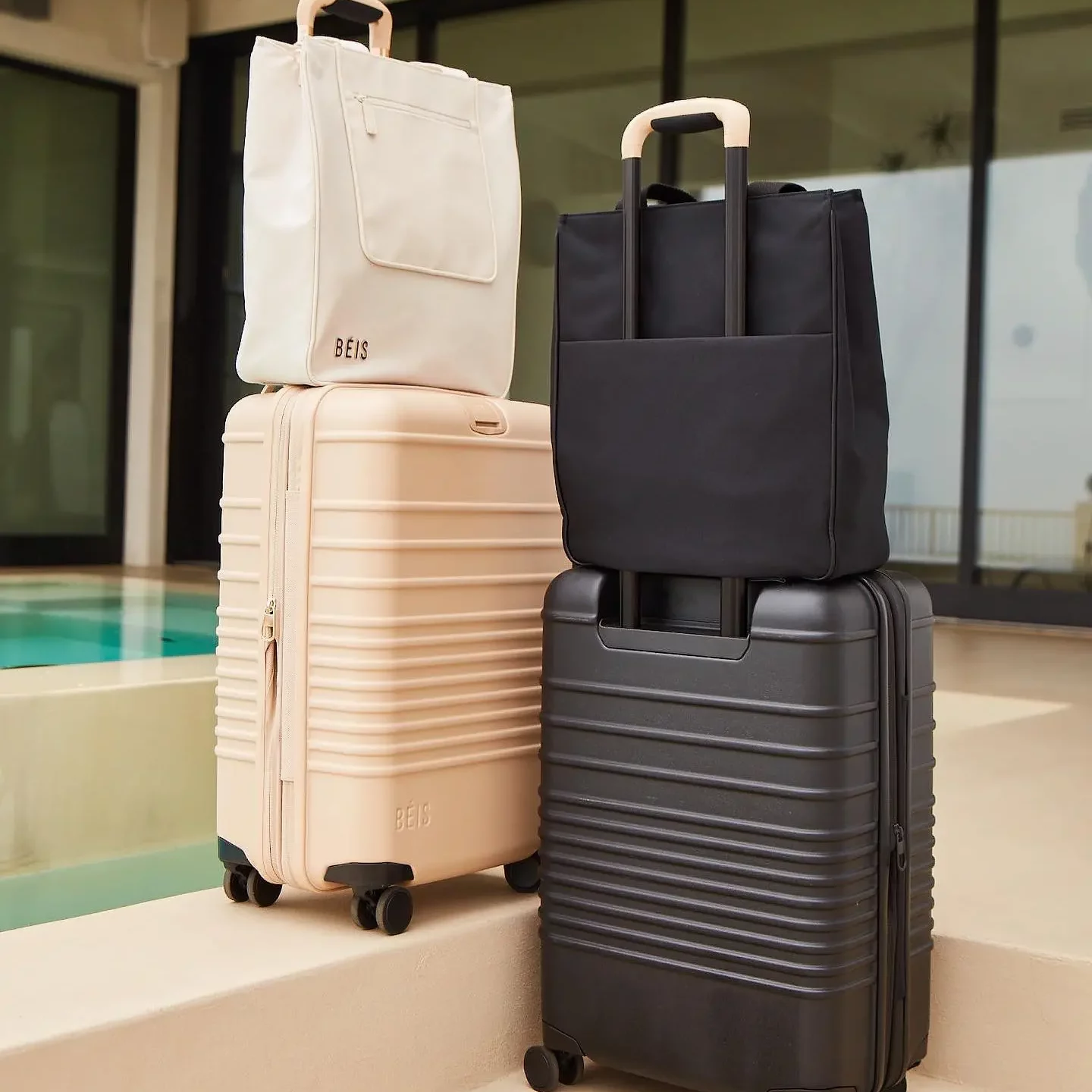 Overall: ★★★★ 3.75 stars
Generally speaking, Beis has some pretty positive reviews across the board.
Customers love the brand's quality fashionable and trendy products and their reasonable prices, but they aren't the biggest fans of the brand's customer service. 
That being said, their prices aren't the most affordable we've seen. We think you can absolutely get quality luggage sets for cheaper than Beis offers, so we wouldn't say this brand offers anything ultra-special that you can't find elsewhere.
Regardless, if you love the statement colors and bag designs that Beis offers, we say go for it.
Collection: ★★★★★ 5 stars
Beis has a decent amount of luggage and bags to choose from, all in gorgeous colors and styles that appeal to everyone's lifestyles. 
Some of the collections Beis offers include hard-sided luggage, baby bags, pet travel bags, and more!
Price: ★★★★★ 4 stars
Beis prides itself on offering affordable and luxurious travel bags and accessories, and that promise is definitely kept.
All Beis luggage products are under $400. Good quality luggage definitely isn't cheap, but Beis's pieces are not only super cute and stylish but also fairly accessible.
The pricing isn't the best ever (you can definitely get quality luggage for cheaper somewhere else), but among the trendiest luggage brands, Beis is definitely winning in pricing.  
Customer Service: ★★★ 2.5 stars
Customer service can really make or break a company, and it looks like Beis customer service isn't looking too hot.
Most of the complaints Beis has received from customers stem from a bad experience with customer service, so that's definitely something to keep in mind before shopping with Beis.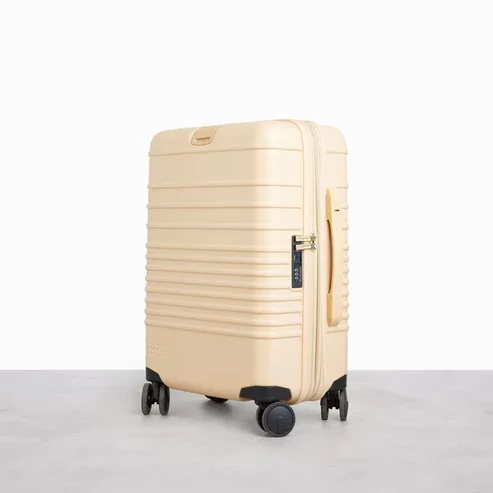 If you hate having to pay to check in a bag at the airport, Beis has some of the cutest carry-on rollers you could imagine.
Available in 9 gorgeous colors, these carry-on rollers make up Beis's best-sellers list thanks to their smooth 360-degree wheels, trolley handle, and TSA locks—and those are only some of the awesome features. 
These carry-on rollers make security a breeze but also make packing super simple as well. Featuring functions like a zip pouch, a butterfly opening, and four-point compression straps, these pieces of luggage can expand up to 12" and carry a capacity 49 to 61 pounds.
Likewise, if you want to buy these carry-on rollers in bigger sizes to serve as a check-in bag, or want to have a cute and fun matching luggage set, they're also available in 26" and 29". 
21" Carry-On  Rolling Luggage: $218
26" Check-In Roller Luggage: $308
29" Check-In Roller Luggage: $328
---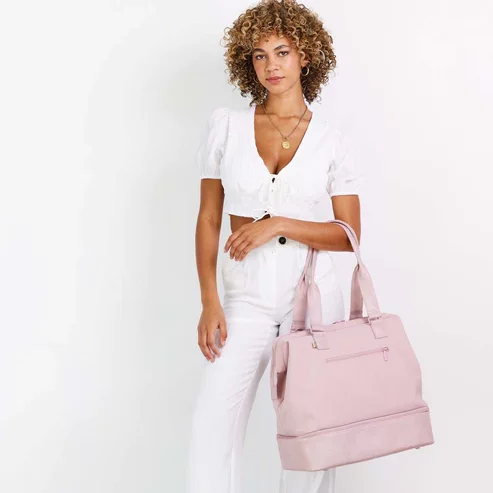 If you're a nomad and find yourself always traveling from one place to another, the Beis Weekender Travel Bag might just be your new go-to.
Available in 9 stunning colors, this bag is huge and can fit all your essentials without trying to stuff anything down.
This tote features a bottom compartment perfect for storing shoes, toiletries, or anything else you want to stow away separately.
Even better, there's a laptop sleeve inside and zipper pocket in the back that transforms into a trolley sleeve to fit over your luggage handle!
This cute bag costs $108, and trust us and thousands of customers who own it, it's totally worth it. 
---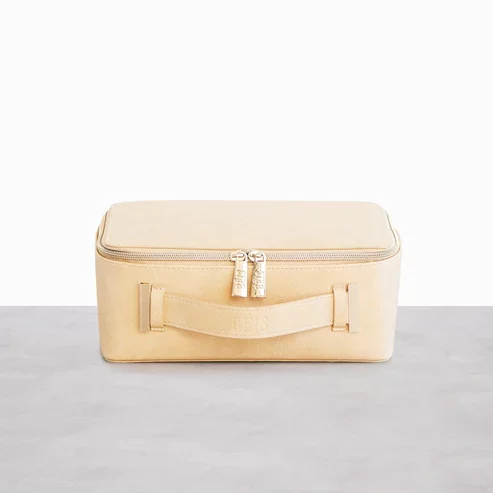 If you wear makeup, you definitely know the hassle of traveling with it.
You don't want to leave any of your favorite products behind, but packing makeup can get so disorganized and messy! However, with the Beis Cosmetic Case, that problem might be solved.
The Cosmetic Case acts as a travel case and a makeup organizer, and believe us when we say that this bag will be able to store all your makeup go-tos in one spot. 
Not only does this travel case come with a mirror but it also features a removable pop-out brush holder plus slip pockets for all your hair ties and other beauty routine needs!
The Beis Cosmetic Case can be yours for $68, and you can choose from 11 pretty colors. 

Return Policy
Beis offers a 45-day return policy on a majority of its items.
Beis also offers free exchanges and easy returns, but there will be a $10 handling fee that's taken from the refund.
Returns can be transferred to store credit or back onto the original payment method.
FAQs
Where is Beis luggage made?
The luggage of Beis is made overseas, but the company operates out of El Segundo, California. 
Who owns Beis?
Shay Mitchell is the founder and CEO of Beis. 
Do Beis bags have a warranty?
Yes, Beis bags do have limited warranty policies unique to the item. For the most part, the warranty covers cracks or breaks in the shell due to defective products, unusable parts, defective zippers, and other malfunctions with the luggage due to the make. 
Conclusion
If you are always on the move and want to ditch the basic backpack and upgrade your travel bag fashion, we love the statement colors and classic designs Beis has to offer.
The items are chic and sleek and will have you feeling like you're a celebrity wherever you're heading. The pieces are good quality, come in gorgeous colors and designs, and look absolutely luxurious!
That being said, we have seen quality luggage at more affordable prices than Beis. No shade to the brand, but if you're on a budget, we wouldn't say that Beis offers anything ultra-special.
Beis Alternatives