The best summer shorts for women shouldn't be hard to find. Check out our top picks for quality, comfortable, and style.
For those of us who aren't lucky enough to live in a place where summer weather is year-round, ditching those sweatpants for some cute shorts is always such an exciting time.
That excitement can be dampened, though, when you find you don't have any cute shorts to wear. But, fear not—we've created a list of the 12 best summer shorts for women to upgrade their warm-weather wardrobe.
What Makes a Great Summer Short?
The topic of a "summer short" is immensely broad. It's all personal preference, but since there are so many options, we'll tell you what we think makes a great pair of shorts.
On this list, we tried to stay away from solely athletic shorts. Rather, we've opted to list the shorts that we think are both cute and casual. Some of them will happen to be athletic shorts, but all of our options can be dressed up or down.
We've chosen our picks based on the style and comfort that will benefit you in those hot summer months the best.
Best Summer Shorts for Women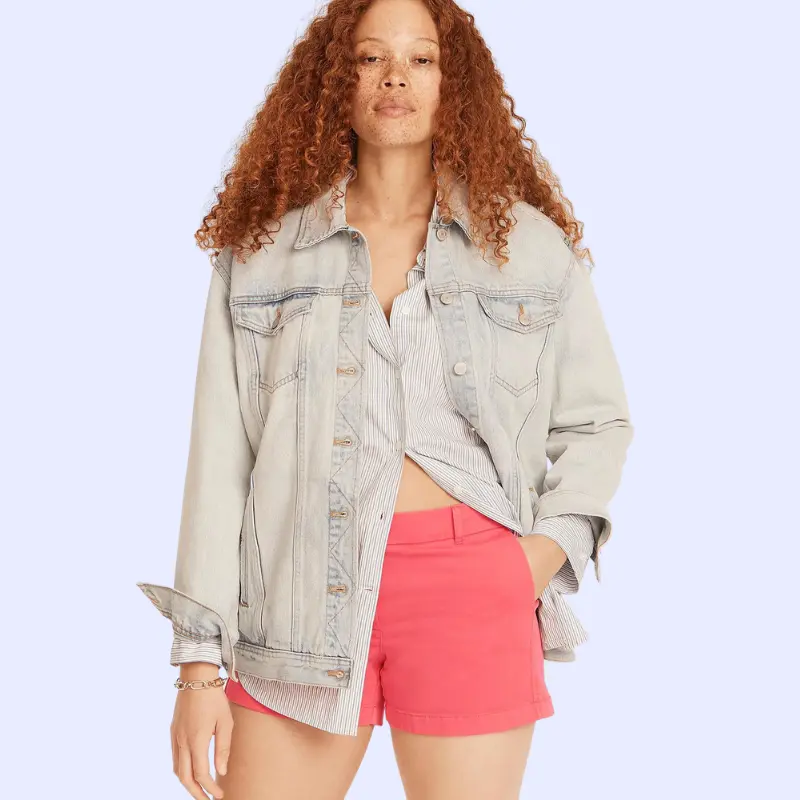 These shorts from J. Crew are a fan-favorite when it comes to that classic-looking short. It comes in 12 different colors and sits right above the hip for a medium-rise.
The cotton and elastane blend gives the shorts a slight stretch. They are super comfortable and easy to move around in.
---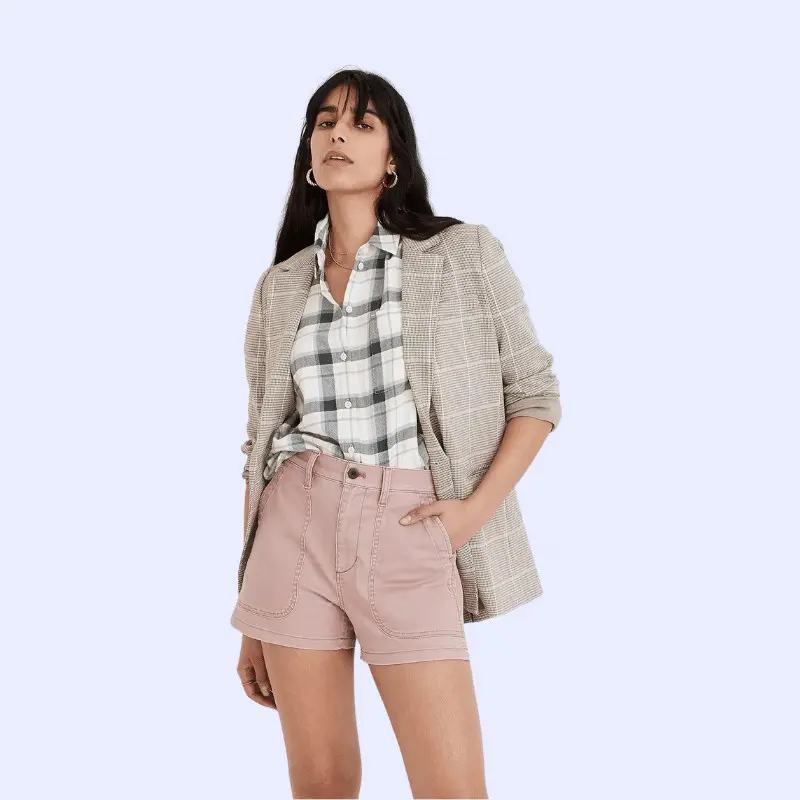 This high-rise short from Madewell is made from soft garment-dyed cotton. The shorts come in 3 different colors: a light mauve, a toffee color, and an army green.
The style is a mix of military and cargo style, with large front pockets. Additionally, they're slightly stretchy and are offered in a curvy fit.
---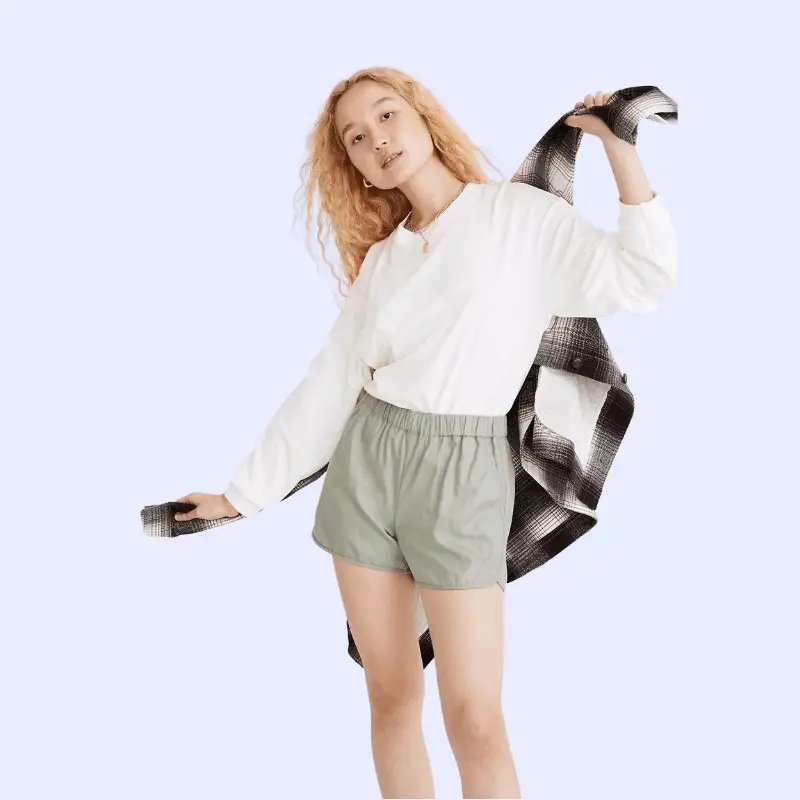 Another Madewell option, the pull-on style of these shorts makes them super versatile and comfortable. They are a more casual option, but can also be dressed up.
The cotton and viscose blend shorts are high-rise. Plus, these best-sellers come in 4 color options, including a classic black option.
---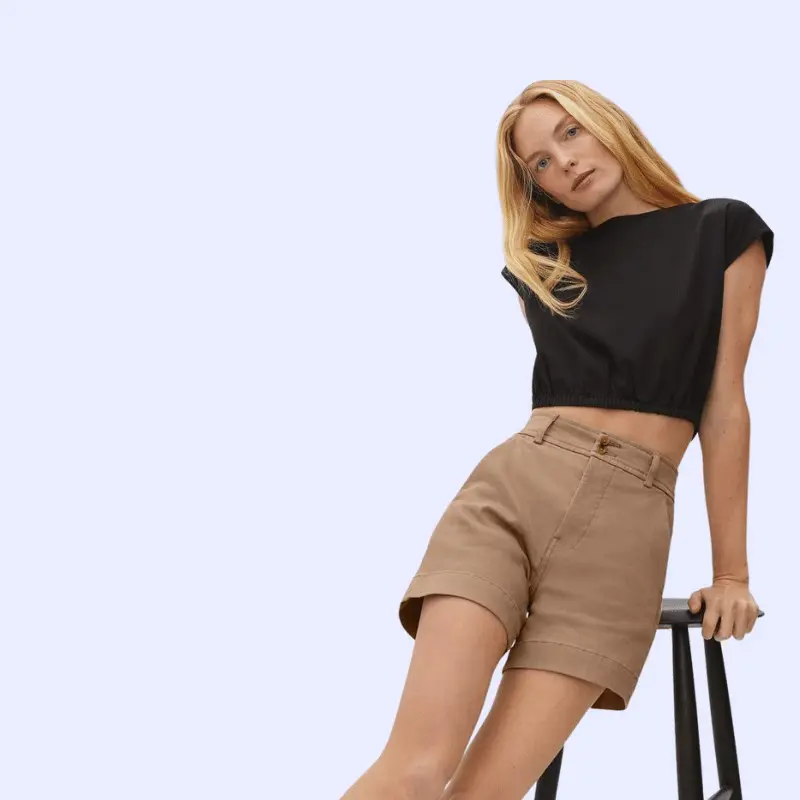 For those of you who want the highest-rise shorts, these ones from Everlane are perfect for you. The cotton canvas material makes these light, breathable summer shorts.
They feature a double button closure and belt loops. We love the cute look of these shorts that come in a classic black or brown color option.
---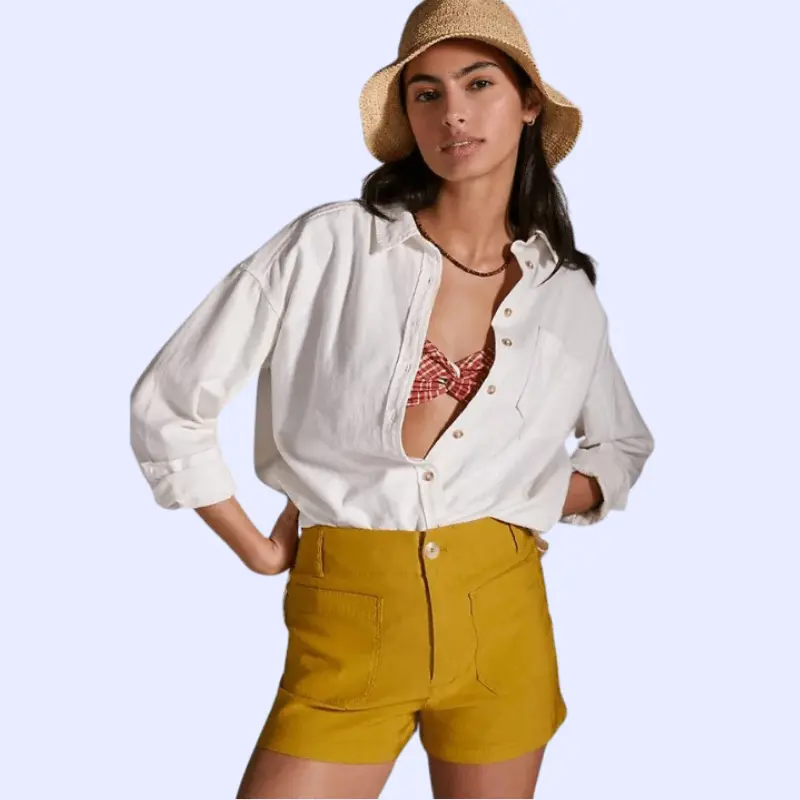 If you're looking for a short that screams summer, these colors won't disappoint. The light mustard-yellow and bright coral are both light, fun summer options.
Plus, they're decently high-rise with a shorter inseam of 2.5." They're stylish with the visible button and are ultra-comfortable.
---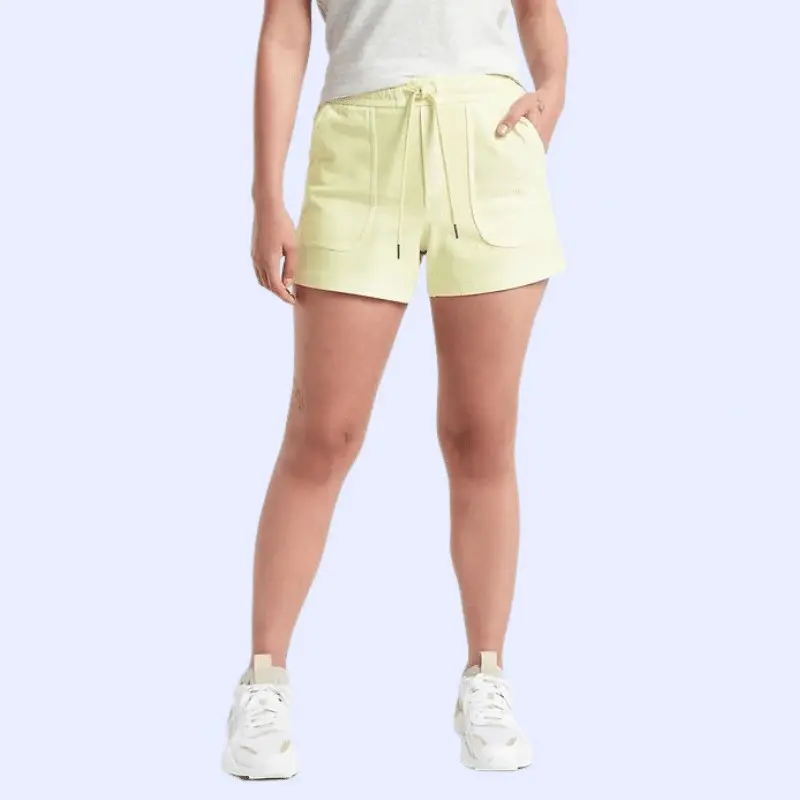 Another pull-on option, these Athleta shorts are a great mix between athletic and dress-up shorts. They have an adjustable tie waist and a ton of airflow, perfect for a summer day.
The look of woven twill makes them perfect to dress up while maintaining the comfort and stretch of an athletic short. They also provide UPF 50+ protection.
---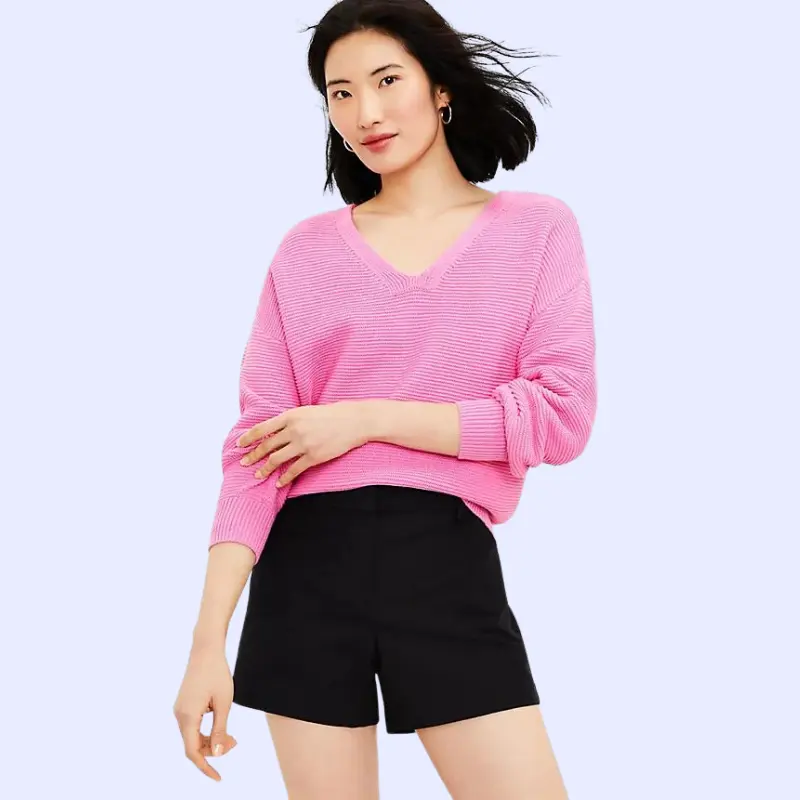 The Riviera Shorts come in both regular and curvy fit types. They feature a hook & bar closure that hides under a sleek waistband.
Additionally, they have a classic, natural fit with a 4" inseam, so they have great coverage without being too long. Made with cotton, rayon, and spandex, the shorts have amazing stretch recovery.
---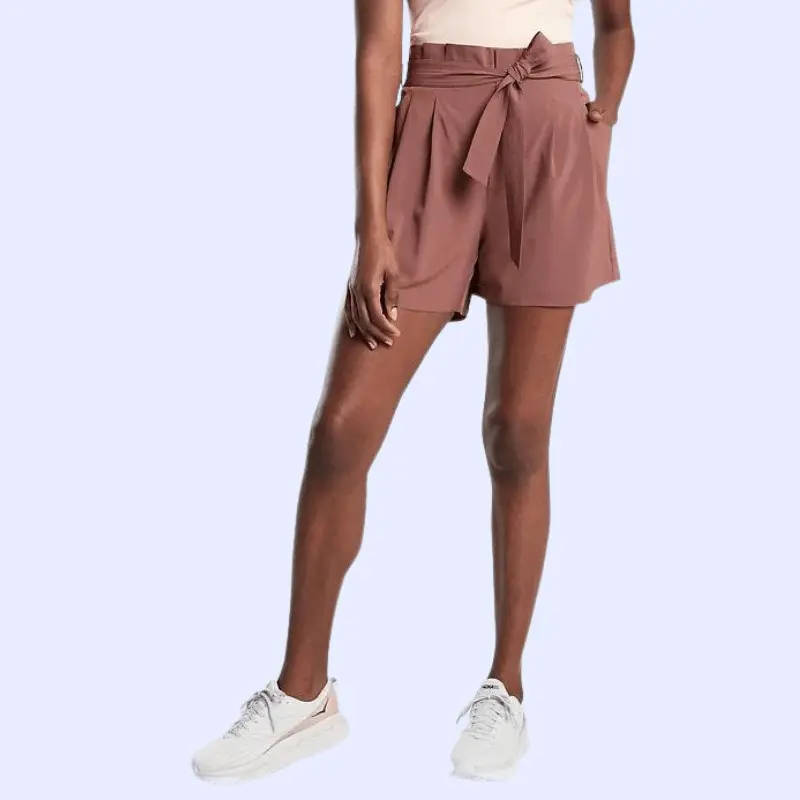 Another pair from Athleta, these shorts feature their "Featherweight Stretch" fabric, made from recycled polyester.
Though they have the comfort of an athletic short, the design is made fancier with a paper bag belt waistband. The material is light and soft, as well as wrinkle-resistant. They also provide UPF 50+ protection.
---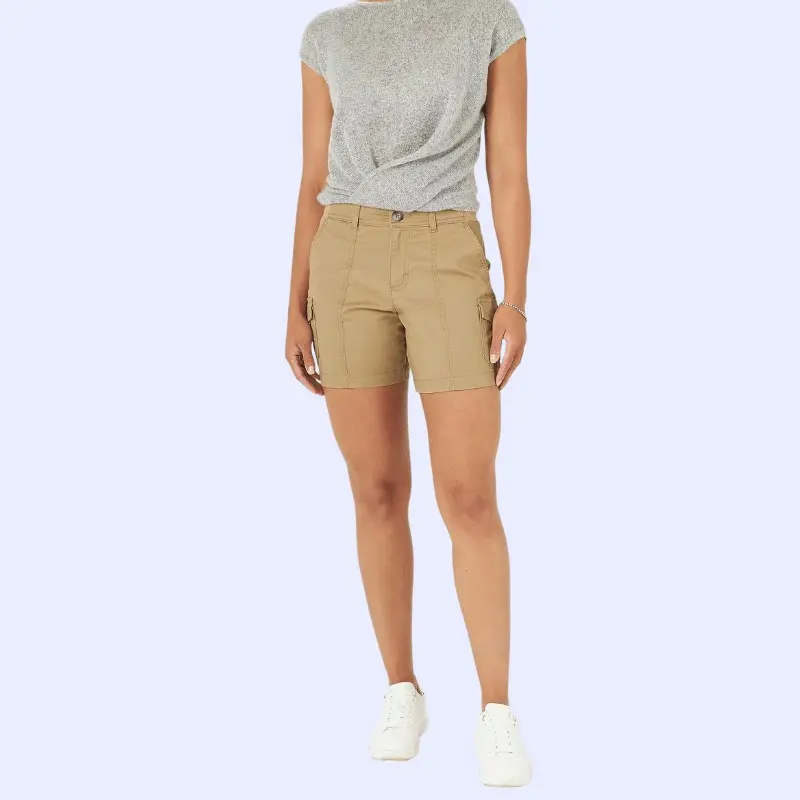 A fan-favorite pair of shorts from Lee, these cargo shorts are perfect for a more active summer day.
There are different length options on their site, but they are mostly medium to long length. They have a natural, relaxed fit. We love that they feature 6 pockets to carry all your goodies.
---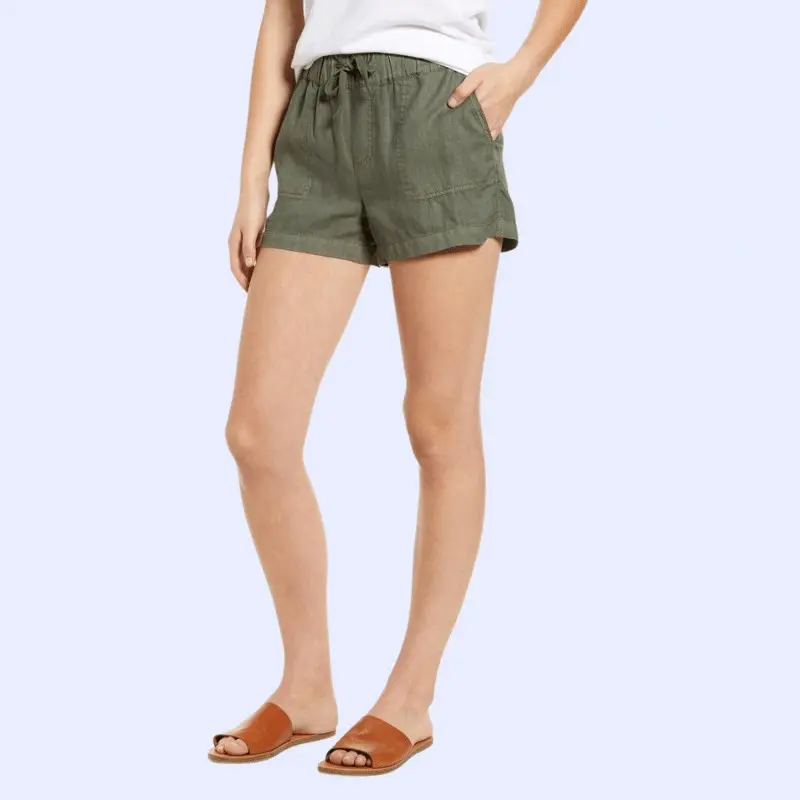 Linen is the perfect material to make up a breezy, cooling short for summer. That's why we love these high-rise shorts from Caslon made of 100% linen.
They feature a comfortable elastic drawstring with a relaxed fit. These shorts have everything a pair of summer shorts needs to have.
---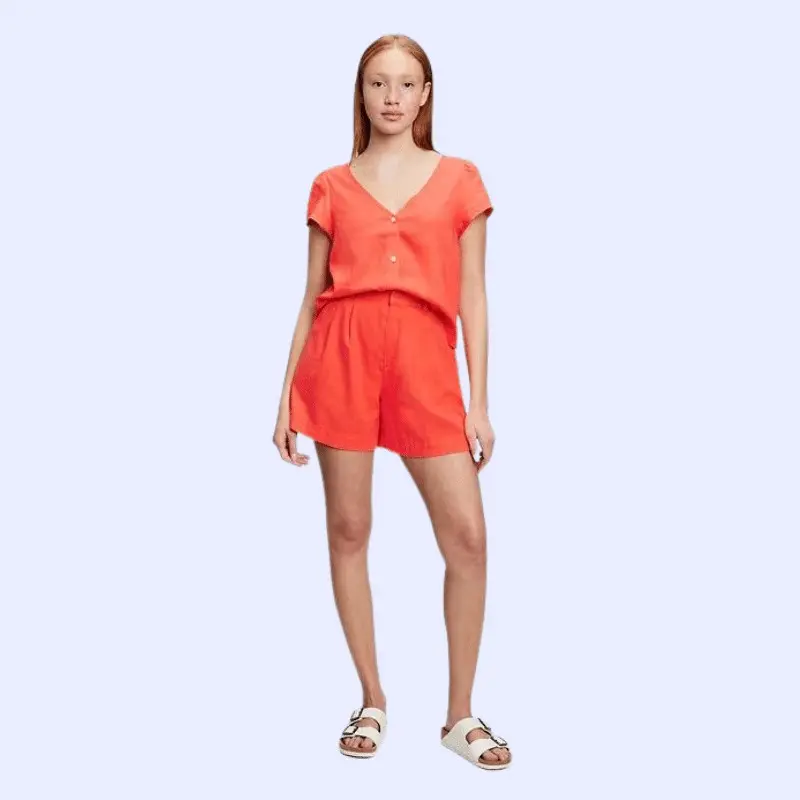 Similar to the last option, these linen-cotton shorts from G.A.P. are a great cooling option for a hot summer day. They're super flowy and breathable.
Moreover, the zipper fly is in a concealed closure, giving the shorts a sleek look. The pleated design is a super feminine detail that adds so much to the overall look of the shorts.
---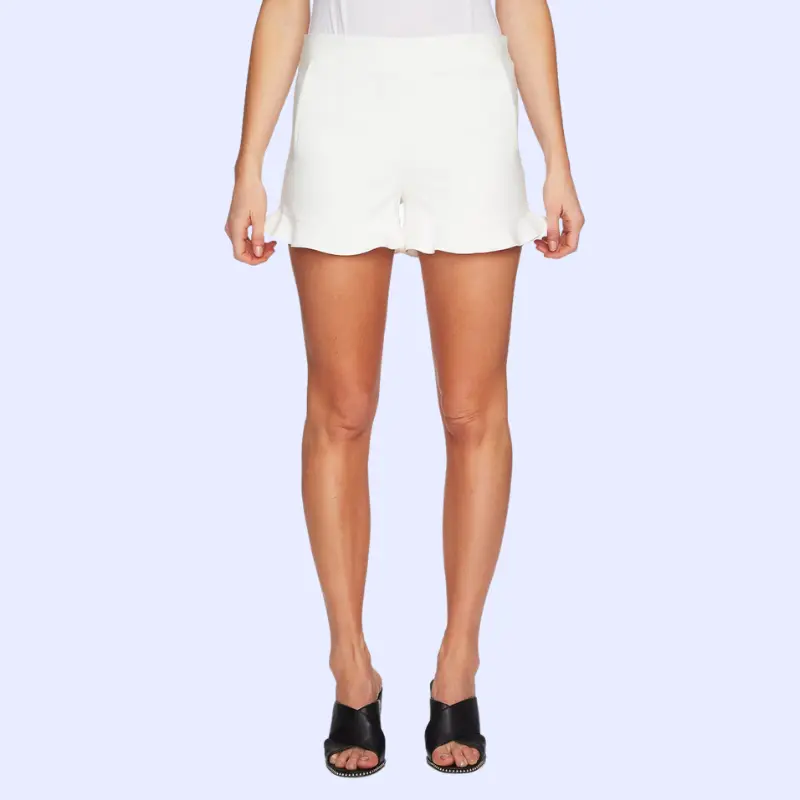 These ruffle hem shorts are the best dressier pair of summer shorts on our list. These are possibly the only pair which can't easily be dressed-down; however, that doesn't stop us from loving them.
They have a very chic, feminine design that features a flouncy hem. The zipper is placed on the side of these 100% linen shorts. They're high-waisted, but very comfortable as they only have the side zipper.
In Short
We hope you enjoyed our picks of the best summer shorts for women. We narrowed down the options to only feature the pairs we found to have the best benefits, while still serving a fashion purpose. Customer reviews back up our choices, and we know you'll love these shorts if you give them a try.
At the end of the day, the most important thing is that you're cool and comfortable. It's an added bonus that our picks just so happen to give you those qualities in a trendy manner. Happy shopping!
UP NEXT: 7 Best Shoes to Wear with Shorts for a Perfect Summer Look
Sarah Nelson is a contemporary writer of women's interests and trends, and a former writer of teenage-angst poetry.