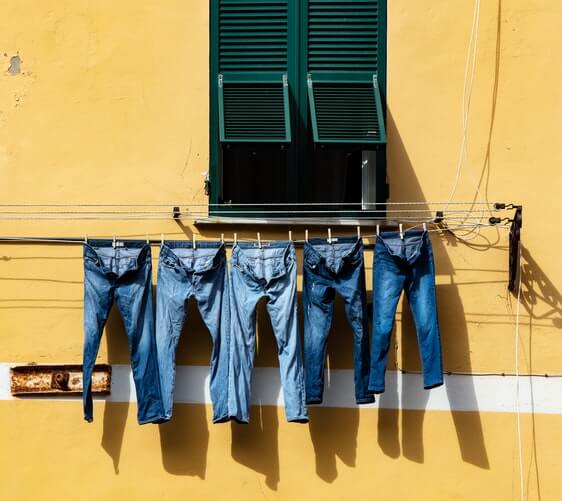 What are Mom Jeans?
If you ever stole any of your mom's jeans in the '90s, you were likely rocking this trend. Oddly enough, many people nowadays run from this style and find it to be unflattering. But, this isn't the case as long as you find the right pair. This trend it's slowly coming back (thanks to many of the best mom jeans we share below).
This style of jeans has a high-waisted effect above the belly button, then tapers down with a loose fit at the hips and legs. These jeans are meant to leave a lot of excess room in the thighs & legs for an old-fashioned look. Additionally, they also make your bum appear longer and flatter (unlike most jeans these days).
Are Mom Jeans Flattering?
While many people don't typically look at this style as flattering, they can look amazing when paired with the right style. For example, pairing them with a tight bodysuit or crop top is a wonderful combination.
That said, if you want super flattering jeans that show off your curves, mom jeans probably aren't for you.
---
11 Best Mom Jeans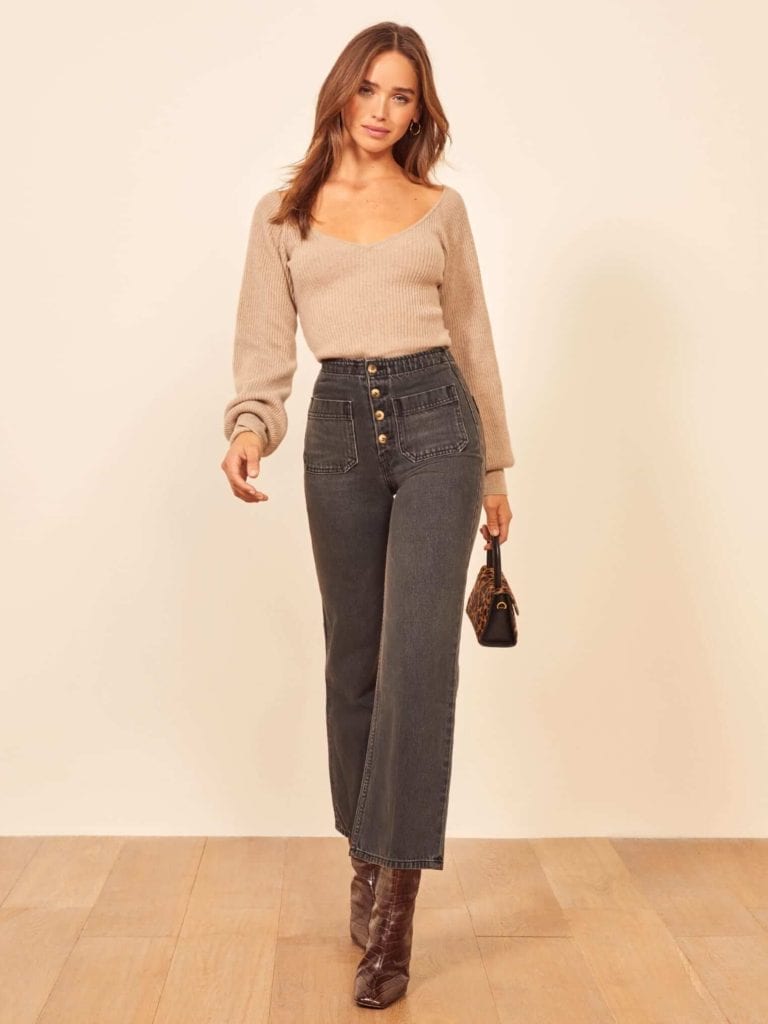 Reformation – Eloise Jean
To kick things off, the Eloise Jean from Reformation is the perfect example of this style and is one of the best places to get high-waisted mom jeans!
With a tighter grip on the waist, leading down to more bell-bottom style, this is the perfect look to pair with a tucked-in shirt and cute ankle boots! They're high-quality and will last forever (plus, Reformation is a more sustainable shopping option).
---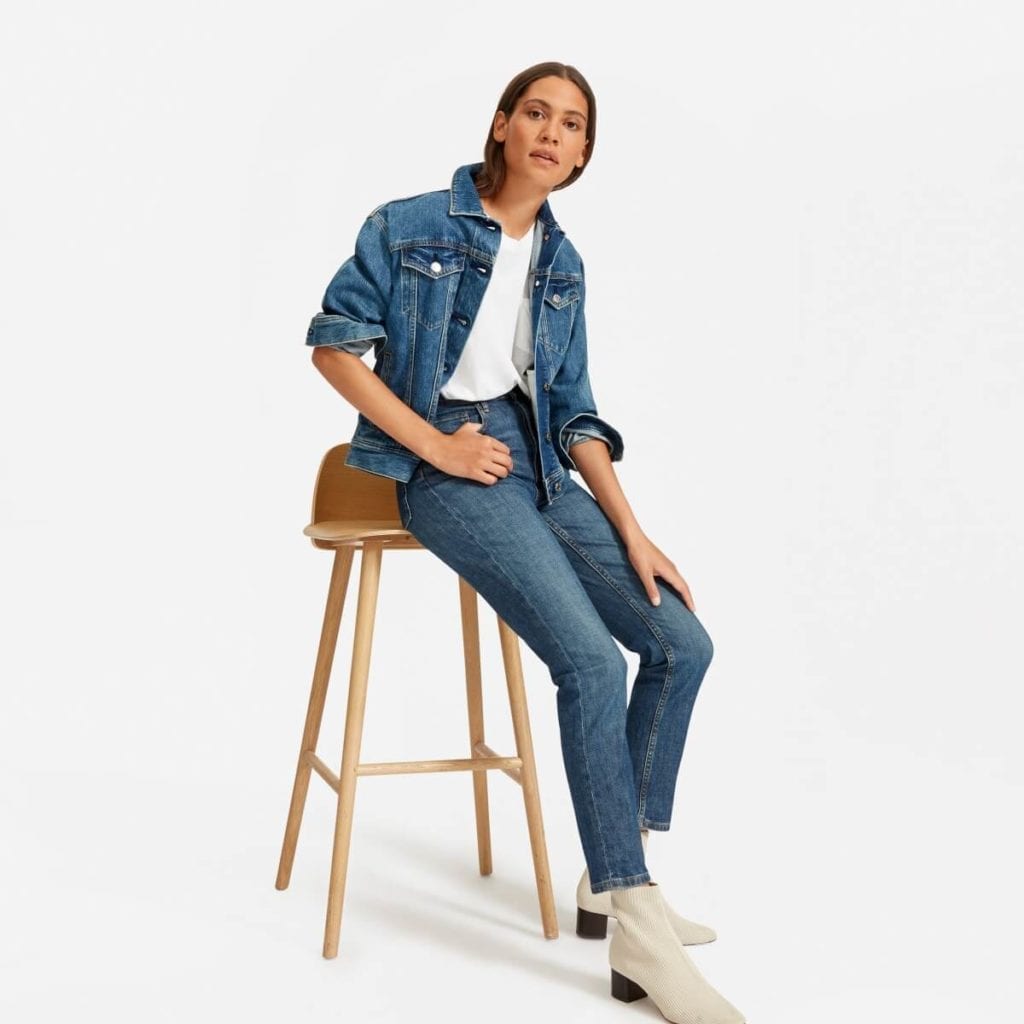 Everlane – Women's Cheeky Straight Jeans
If you're looking for more of an early 2000's look, Everlane has your back. Offered in a variety of colors and lengths, this dated mom-style jean is perfect for those transitioning into the look.
These jeans pair super well with a denim jacket or tucked in shirt. Plus, the rear fit design has a more flattering look for your bum compared to most other options.
---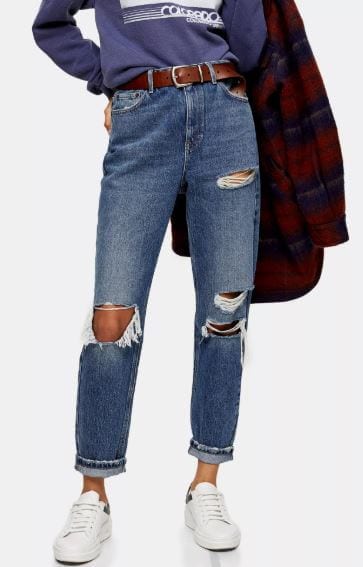 Topshop – Mid Blue Ripped Mom Tapered Jeans
When it comes to the question of where to get mom jeans, many people run to Topshop. These particular jeans are retro style with a modern touch – they're made with authentic denim, with a ripped style down the legs for a little rebellious touch.
These Topshop mom jeans are perfect for those who have a more edgy style and a feisty attitude to top it off!
---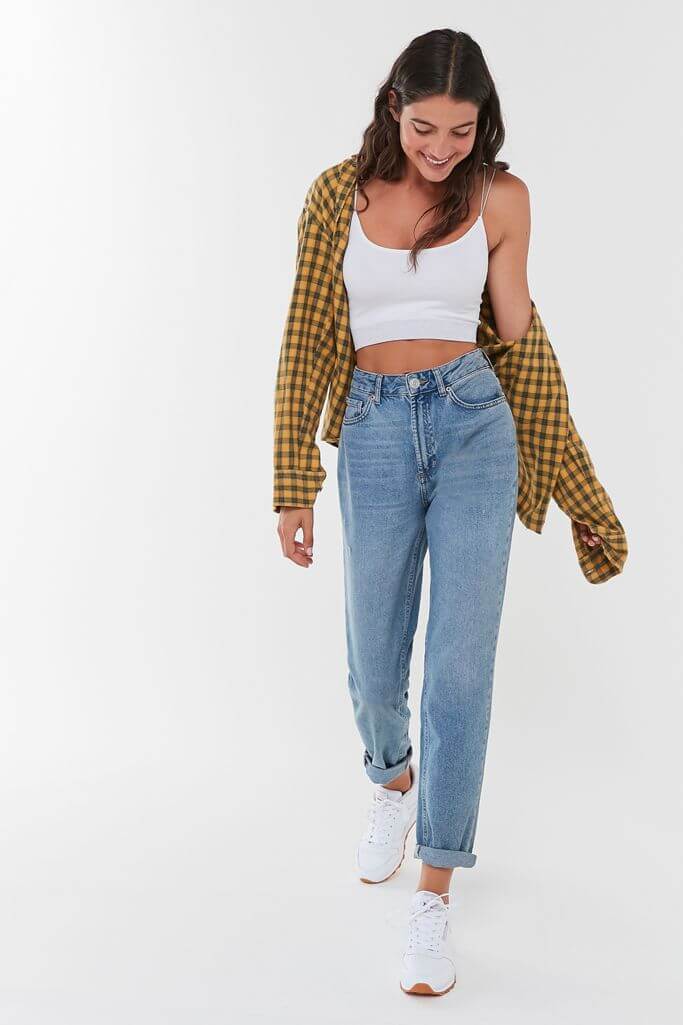 Urban Outfitters – BDG High-Waisted Mom Jeans
UO has some of the cutest mom jeans on the market. These stylish mom jeans are anything but unflattering. With a vintage-inspired high rise and relaxed look down the hips & legs, these jeans are comfy and chic.
This style would pair great with a tank top, crop top, or even an oversized shirt (tucked in). Plus, they're only around $60.
---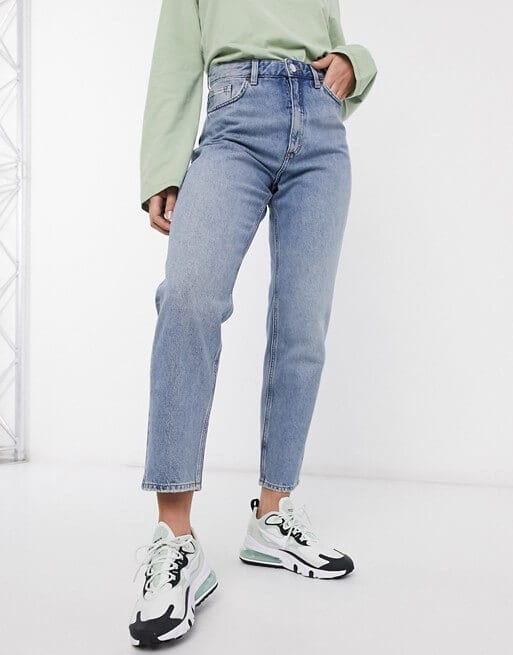 Monki – Taiki High Waist Mom Jeans
These trendy mom jeans from Monki are anything but outdated. With a high-rise that ends comfortably at the ankles, you'll feel like you're living in an episode of Friends (talk about goals).
These thick, baggy jeans have a relaxed fit, making them ideal for wearing just about anywhere!
---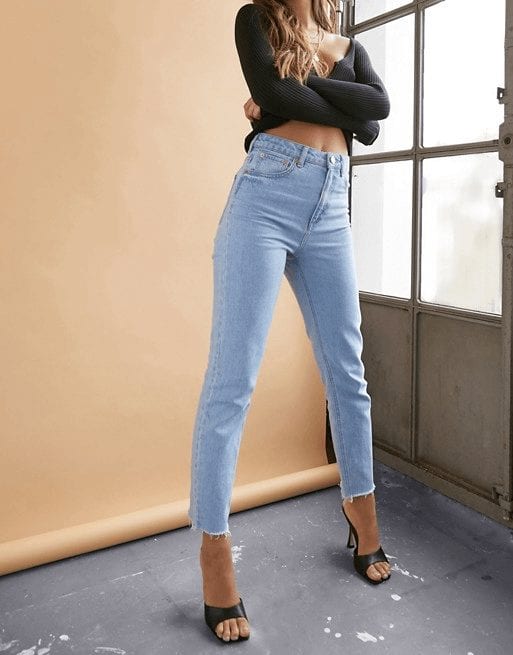 ASOS – Farleigh High Slim Mom Jeans
On the more affordable spectrum of the best mom jeans are these from ASOS. Their style is slightly slimmer, making them a bit more flattering around your butt and waist.
With options for all sizes (including curvy, petite or tall), anyone can find their perfect fit. These retro pants pair perfectly with heels and a tucked-in tank. But honestly, anything would pair great with these beauties!
---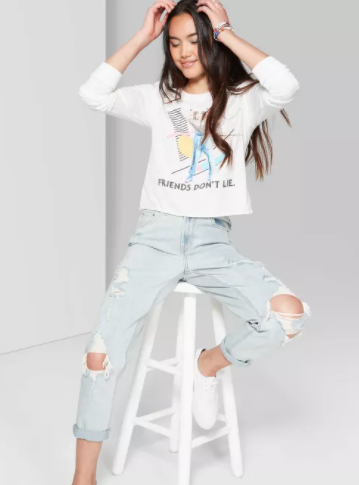 Target – High-Rise Distressed Mom Jean
Target is full of cute items, including a charming section of cheap mom jeans! These Wild & Fable mom jeans have a wild and chic look. The fashionable rip pattern begins at the thighs, then leads to open ripped knees.
These jeans bring us back to those wild high-school days! Trendy and comfy, these jeans are genuinely one-of-a-kind (and are only $22)! Plus, with Target's lenient return policy, you can easily bring them back if they don't live up to your standards.
---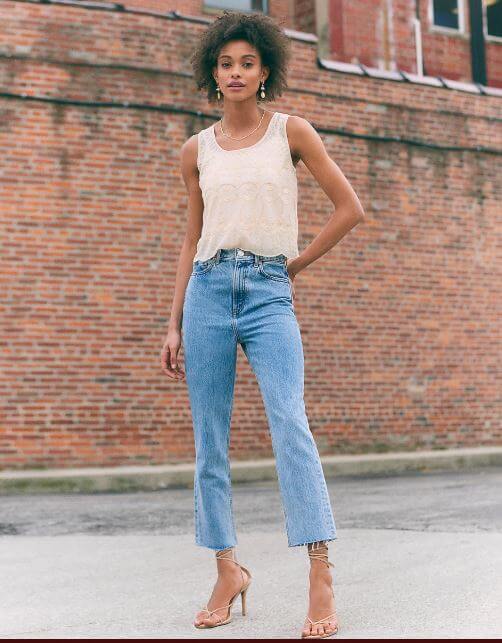 Express – Super High Waisted Raw Hem Mom Jeans
These perfect-fit jeans are ideal for a girl looking to get a little adventurous with her style.
With the flared bell-bottom look and raw-cut hems, nothing says retro chic quite like these babies. The slim hips and relaxed thighs are the perfect balance of comfort and style.
---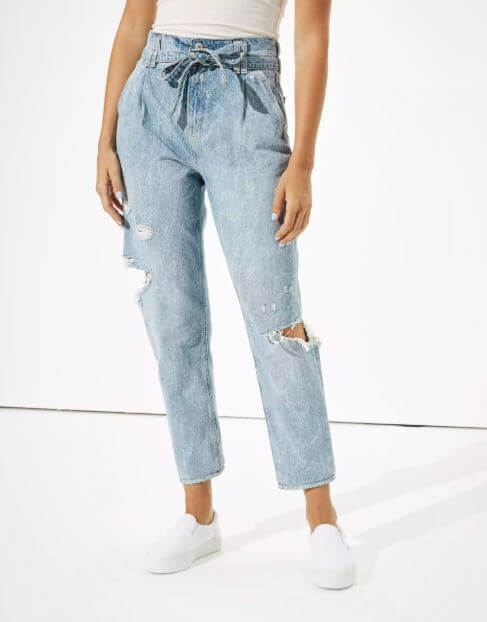 American Eagle – AE Highest Waist Mom Jean
American Eagle has some unique options when it comes to 90's style jeans. These are a great example – they are trendy & cutesy, while also resembling more of a jeggings style. These come with a belt to tighten around the waist to keep those jeans and your confidence high!
With a simple ankle cut design and ripped legs, nothing quite says coffee shop study date like these comfy jeans. They're the perfect mid-range option at $45 (not to mention, there are plenty of sales that can bring the price down).
---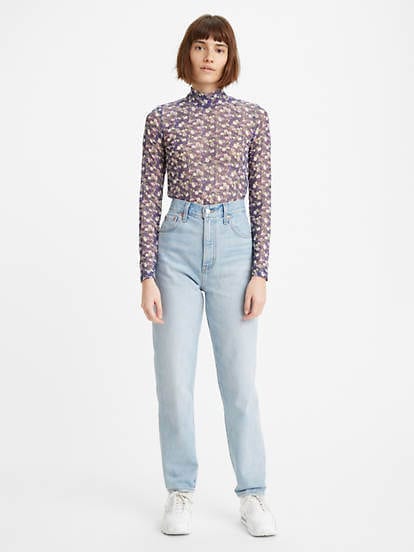 Levi's – High Loose Tapered Women's Jeans
If you're a Levi's lover, this one's for you. With a flattering fit due to the extensive high-rise, these jeans are the prime example of mom jeans.
The loose fit and relaxed design results in the perfect lazy look. Plus, the washed down style flaunts the retro feel.
---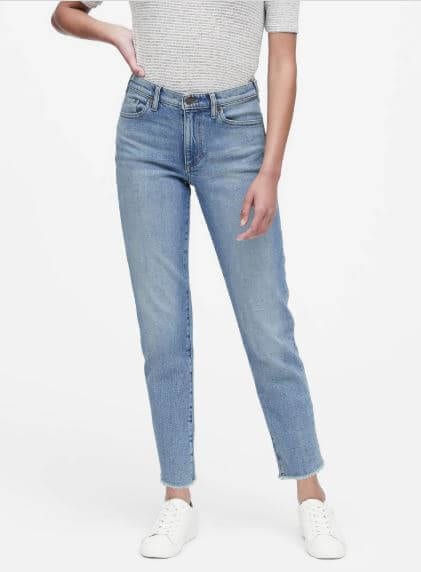 Banana Republic – High-Rise Straight-Fit Ankle Jean
And lastly, Banana Republic is another great example of where to buy mom jeans. These sought-after 90's looking jeans are designed for an authentic, vintage-style look.
The straight cut through the hips and thighs evokes a comfortable, already-worn feel that we're loving.
---
Bottom Line
Overall, there are many different options out there, but these to be some of the absolute best mom jeans on the market! So, whether you're looking for a loose-fit, hemmed ends, or a punk-rocker style, you'll be sure you'll be living your best life rocking any of these incredible jeans.