You know what they say: new hair, new you! When done right, bleaching your hair can give you a serious confidence boost by creating that perfect, Pinterest-worthy hair, or by giving you a new look you never thought you could pull off.
That said, bleaching your hair can cause major damage (including hair loss, overly drying your hair, and even scalp burns). That's why bleaching your hair the right way is super important.
Hair bleach is actually hydrogen peroxide, a chemical that opens the hair cuticles to let out natural color and make it more penetrable for hair dye. This causes damage to your hair, so you'll want to be careful when applying any type of bleach.
Even though the safest route to bleaching your hair is to book an appointment with a professional, below is a step-by-step guide on how to bleach your hair at home with minimum damage. Keep reading to learn how to prepare, bleach, and care for your locks with caution.
How to Bleach Your Hair
Before you go running to gather supplies or buy a bleach kit, it's important to note that bleaching your hair is usually a process. It might take multiple sessions to get the results you want, especially if you have dark hair.
If you try rushing the process to achieve your desired hair faster, you could end up with fried hair or even significant hair loss. Be patient, it'll be worth the extra time!
Supplies To Bleach Your Hair
Before diving straight into bleaching your hair, here is a list of items you'll need to round up to make the bleaching process as easy as possible.
Bleach kit (most come with the mixture, developer, bowl, and brush)
Gloves
Old clothes/towel
Shower cap or plastic bag
Toner (optional)
How to Bleach Your Hair – Steps
Now, let's dive into the detailed steps you need to start bleaching your hair.
1. Start with Healthy Hair
It's best to start with healthy or "virgin" hair, meaning you'll want your hair to be damaged as little as possible before you bleach it. This will help minimize the damage that occurs during the process.
So if you've colored your hair recently, it's a good idea to wait at least three months before attempting to bleach it. Deep conditioning your hair a few weeks before bleaching can also reduce damage to your hair by giving it intense moisture. 
Many experts also recommend applying coconut oil to your hair before bleaching – they state this provides extra protection and moisture.
2. Pick a Bleach
Next, you'll want to choose which hair bleach to use. Since there are so many products on the market, deciding on the right hair bleach can be difficult. Luckily, we've created a guide of the best hair bleach to get you started!
While shopping for a bleach, you might also want to choose a toner to prevent your hair from turning orange, or reach for some blue or purple shampoo to cancel out any brassy tones.
Our Favs: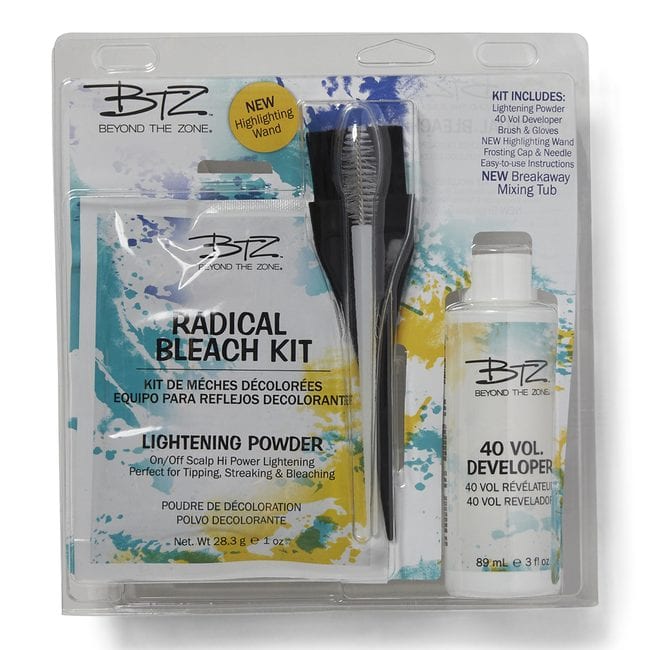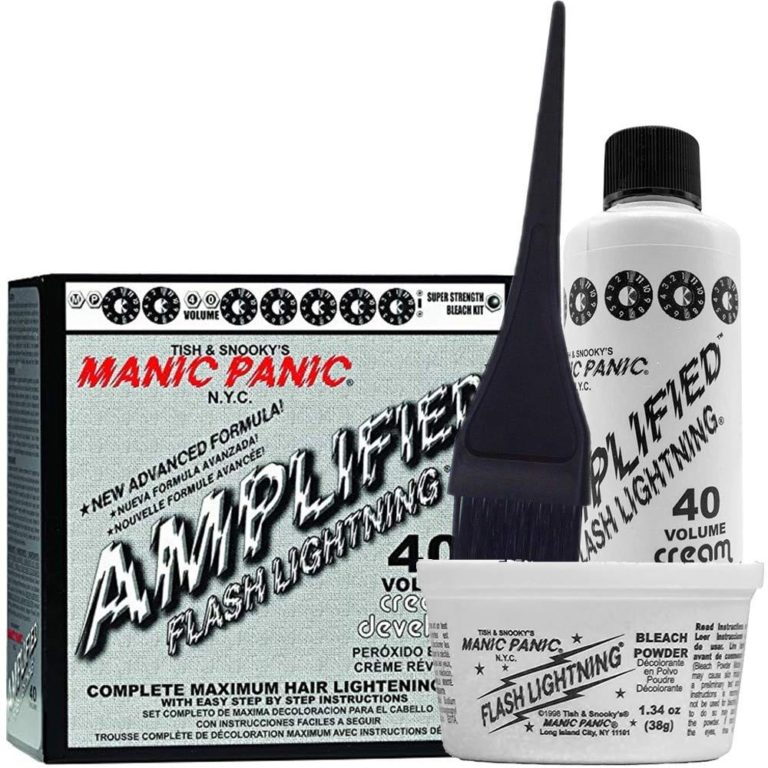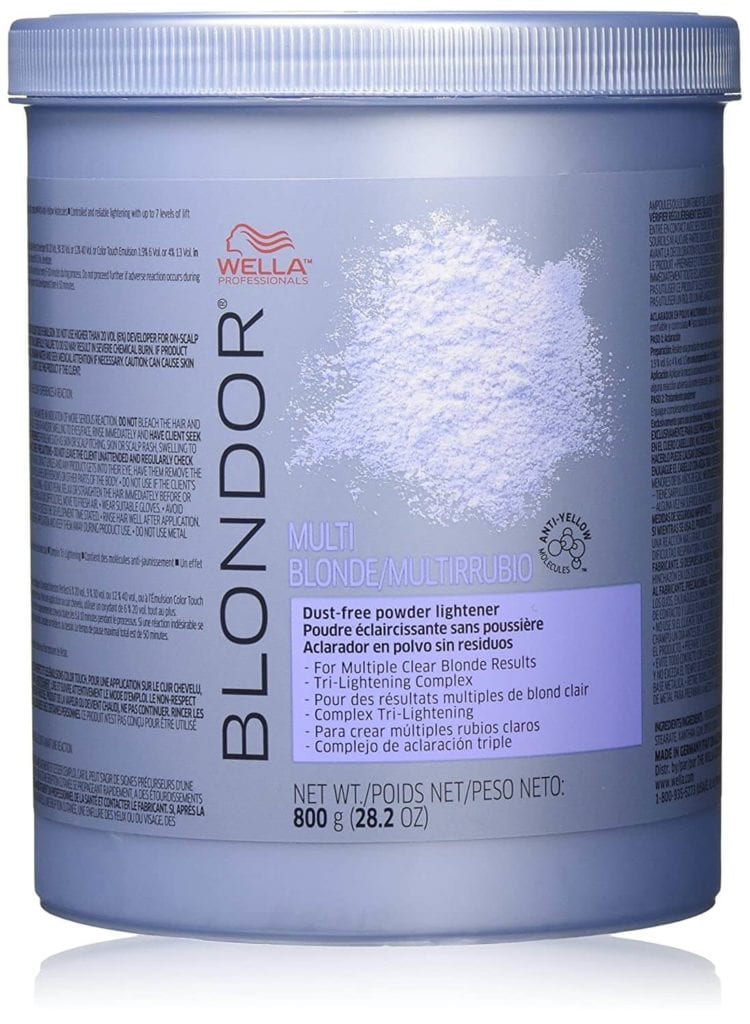 3. Get Additional Supplies
Before applying any type of product to your hair, it's a good idea to start by making sure you have all your supplies in place and ready to use.
Since bleach almost always stains fabric, you should choose old clothes and towels to work with. Anything you feel comfortable in is fine, just make sure whatever you wear is okay to be ruined.
4. Mix the Bleach + Developer
Next, depending on the brand and type of bleach you chose, you'll need to mix the bleach powder and the developer together.
Note: all developers are NOT made equal. Each developer has a different volume: either 10, 20, 30, or 40. Volume 10 gives the least amount of lift, with the least amount of damage. Volume 40, on the other hand, gives the most lift, but is also the most damaging.
5. Separate Your Hair + Apply Bleach
When you're ready, separate your hair into four sections in order to better see where you have and haven't applied any product.
Then, section off your hair into even smaller segments and apply bleach an inch away from your scalp, working down.
You don't want to start at your roots since they will bleach quicker than the rest of your hair.
Once you've finished the bottom part of your hair, you can go back and apply the bleach mixture to your roots.
6. Cover Your Hair + Wait
After that, cover your hair with either a shower cap or a plastic bag to keep everything neat and tidy.
Next comes the waiting, though for how long will depend on your natural hair color and the amount of lift you are looking for.
The basic rule of thumb is the longer you leave on the hair bleach, the lighter your hair will be.
Even though most of the time this will take 15 to 45 minutes, you'll want to check the directions on your particular product thoroughly to know the exact time you should leave the bleach mixture on your hair.
7. Wash Your Hair
Once your time is up, make sure to jump in the shower and rinse and shampoo your hair immediately. This is not something you'll want to procrastinate on- leaving the bleach on your hair too long can cause serious damage.
8. Optional: Toning
If you decide to tone your hair to cancel out any brassy undertones (which is often needed, especially if you're bleaching darker hair), you'll get the best results if you tone it right after bleaching.
Even though you can apply toner to wet or dry hair, it's better to apply to damp or towel-dried hair. Leave the toner on, referring to the instructions for the correct time frame. Afterward, wash and condition your hair again.
Aftercare
After bleaching your hair, you'll want to keep it healthy by deep conditioning it once a week, minimizing the amount of heat you use on your hair, and washing your hair in lukewarm rather than scalding hot water.
There are also supplements you can take to keep your processed hair healthy, but you'll definitely want to do your research before taking anything!
Here's a quick video to give you a visual of the process!
Conclusion
Even though bleaching your hair at home can create some understandable anxiety, that doesn't mean it's an impossible task. Remember, patience is key. Give yourself the time you need to do it right in order to achieve your best hair yet.
No matter the bleach product or kit you choose to apply to your hair, follow the instructions closely and there should be nothing to worry about. We hope this guide on how to bleach your hair helps you obtain your hair goals with minimum damage!
UP NEXT: How To Tone Your Hair at Home